By Bob Yearick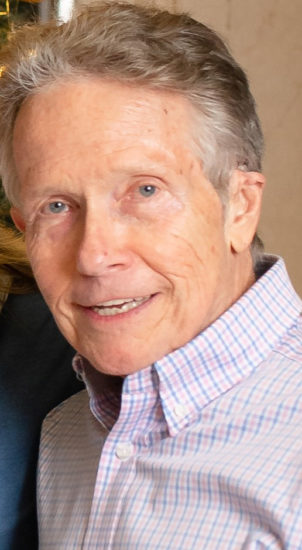 The 'Even Still' Disease
That's what I call the tendency of some writers to insert even before the perfectly serviceable still in such sentences as these:
• Paul Meyerberg, USA TODAY: "Even still, several factors could derail Georgia's season."
• Keith Pompey, in The Philadelphia Inquirer: "(Warriors) Coach Steve Kerr basically started resting his starters at the end of the third quarter. Even still, the Warriors had a 26-point cushion." 
Department of Redundancies Dept.
• During the Ryder Cup golf tournament, TV analyst Paul Azinger used a common redundancy when he referred to "the whole, entire gallery." His colleague, Dan Hicks, later talked of "the big, massive crowd."
• NBC Today's Savannah Guthrie, on the Hamas attack on Israel: "It's almost unfathomable to believe that this happened." Unfathomable: incapable of being fully explored or understood. In other words, believed.
Iconically Speaking 
For years, reader Walt DelGiorno has been sending me examples of the random and widespread use of iconic to describe, well, almost anything. I promised him some time ago that I would address this irritant, and that time has arrived. Here's a sampling of Walt's submissions along with a couple of mine: 
• USA Today writer Gabe Hauari called the Grand Canyon "one of America's iconic natural landmarks." So, not simply a landmark?
• Similarly, during the French Open, Savannah Guthrie referred to the "iconic landmarks in Paris."
• Camp David, according to MSNBC's Andrea Mitchell, is iconic.
• During The Open Championship, an announcer observed, "[Brian] Harman is on top of that iconic yellow leaderboard."   
• USA TODAY's Josh Peter: "Kurt Rambis, the forward who sported iconic black-rimmed glasses  as a member of the Showtime Lakers."
• NBC10 noted the death of "iconic actor Bob McGrath from Sesame Street."
• Law firm Swartz Culleton calls its phone number – 1-800-JUSTICE – yep, iconic.
• And a Cadillac commercial ends with: "Be iconic. Cadillac."
Football Follies
Football is back in season, and the play-by-play guys and analysts are doing their usual disservice to the language. A couple of early entries:
• Kirk Herbstreit, on ESPN's College GameDay: "If you would've saw what I just saw." Kirk got one out of two. Would've seen is the correct construction.
• A play-by-play guy (I missed his name) on a Big 10 game: "It was a footrace between he and the cornerback." Should be him, object of the preposition between, of course, but I'm sure the announcer felt he sounded more sophisticated. 
Media Watch
• From The News Journal: "Police on Tuesday honed in on a 2-mile perimeter in Pocopson Township, a residential area near Longwood Gardens in Pennsylvania, which U.S. marshals described as 'heavily wooded' and offering 'a lot of hiding spots and ravens.'" That should  be homed in, and we're pretty sure the U.S. marshals called those deep, narrow gorges ravines. 
• From the Williamsport (Pa.) Sun-Gazette: "Horace's wife, Odelia, worked by his side, often 14-hour days, selling the farm's wears." That's wares.
• A reader reports that the network announcer on a Phillies-Marlins playoff game said that "(Bryce) Harper had a historical 2022 postseason." Harper had a historic (something of great and lasting importance) postseason last year. Historical is used as a general term for describing history, as in "the historical record."
• From CNN, courtesy of reader Jane Buck: "The North Carolina Judicial Standards Commission is a non-partisan investigative body comprised of members appointed by the Chief Justice, Governor, General Assembly, and State Bar Council." The whole comprises the parts, so the commission comprises members appointed by the Chief Justic, etc. Composed of would've been acceptable in this sentence.
• Mike Sielski, in The Philadelphia Inquirer: "See, this kind of cloak-and-dagger stuff doesn't jive with the NFL's culture of openness and honesty." Mike meant jibe, meaning to agree with. Jive means a style of dance or glib, deceptive, or foolish talk.
Word of the Month
Vicissitude
Pronounced veh-siss-a-tude, it's a noun meaning 1. A change of circumstances or fortune, typically one that is unwelcome or unpleasant. 2. Alternation between opposite things.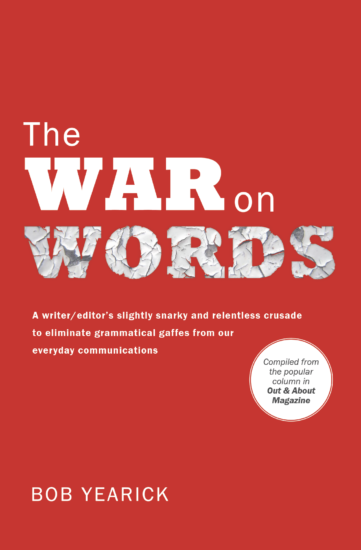 Follow me on Twitter: @thewaronwords
Need a Speaker for your Organization?
Contact me for a fun presentation on grammar: ryearick@comcast.net.
Buy The War on Words book at the Hockessin Book Shelf or by calling Out & About at (302) 655-6483.