By Mark Fields
The Pigeon Tunnel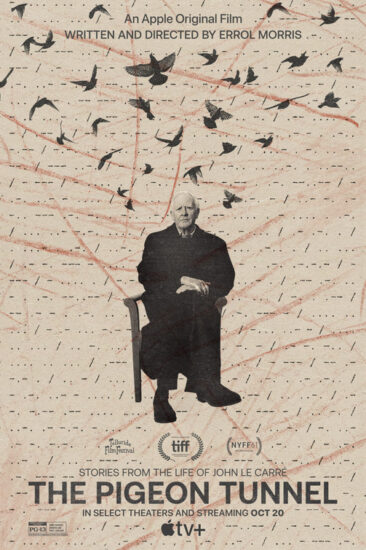 Long-retired British intelligence agent David Cornwell — better known to the world as master spy novelist John Le Carre — agreed to a series of probing interviews with filmmaker Errol Morris in the years right before his 2020 death (at age 89). The result is this lyrical and moody documentary, The Pigeon Tunnel.
The Pigeon Tunnel documents Le Carre's colorful upbringing and early intelligence career, and reflects on how those elements shaped his life philosophy, world view and celebrated writing (Le Carre has authored more than 30, mostly espionage-centric novels including The Spy Who Came In From The Cold, Tinker Tailor Soldier Spy, and The Little Drummer Girl.)
Morris has long taken a highly-creative approach to his documentaries, which include the acclaimed Gates of Heaven (1978), The Thin Blue Line (1988), The Fog of War (2003, Oscar winner), and The Unknown Known (2013). Albeit tightly focused on conversational yet probing interviews conducted by the filmmaker himself, the films are still structured with production elements more associated with fictional movies: cryptic re-enactments using actors, unconventional cut-away graphics and interstitials, and an overall evocative mood and sweep.
Morris's expressive approach for documentaries and Le Carre's world of intrigue (real and fictional) complement one another well, and the film is both moving and profound. A special shout-out to the eerie score, co-composed by Philip Glass (a frequent Morris collaborator) and Paul Leonard-Morgan, which provides a good deal of the drive for Morris' satisfying film.