By Mark Fields
Killers of the Flower Moon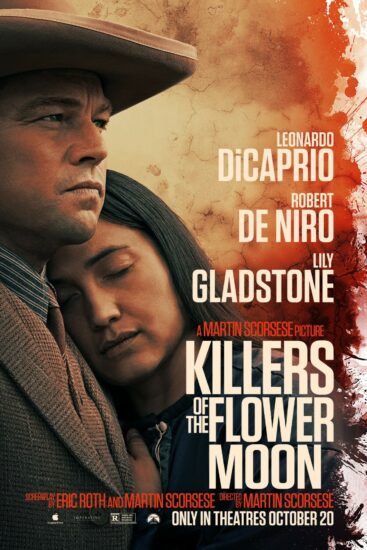 One of the most prolific and skilled American filmmakers, Martin Scorsese has, over his 50-year career, served as our poet laureate of violence and depravity. He has effectively plumbed the shocking brutality of which humans are capable and the corrosive impact that brutality has on the innocent and the guilty alike. In truth, I have always found his earlier films (Mean Streets, Taxi Driver, Raging Bull) more revelatory than recent movies such as The Departed and The Irishman. For me at least, you can only go to the same well so many times. Even still, the later films are nonetheless master classes in visuals, pacing, and mood.
With that in idea, I was keenly looking forward to Scorsese's latest, Killers of the Flower Moon. The powerful (and true) story of white-indigenous conflict and exploitation in the boom days of 1920s Oklahoma oil country, the subject and setting seemed to offer the director an opportunity to turn his prodigious filmcraft to a new milieu. Alas, despite compelling performances, sweeping cinematography and music, and stellar production design, Killers of the Flower Moon is an exquisite mess. The main characters are frustratingly opaque in their motivations and self-awareness; the central romantic relationship of the story (between Leonardo DiCaprio's white oppressor character and Lily Gladstone's stalwart Osage woman) defies credibility; the screenplay (co-written by Scorsese and Eric Roth) feels disordered and unfocused; and the movie is unnecessarily long.
Scorsese knows what he's doing cinematically, of course, and so the film bristles with fascinating energy and moving images. But to reduce this heart-wrenching history to yet another meditation on extreme and self-interested violence seems an unfortunate shortcoming.