By Mark Fields
Strange Way of Life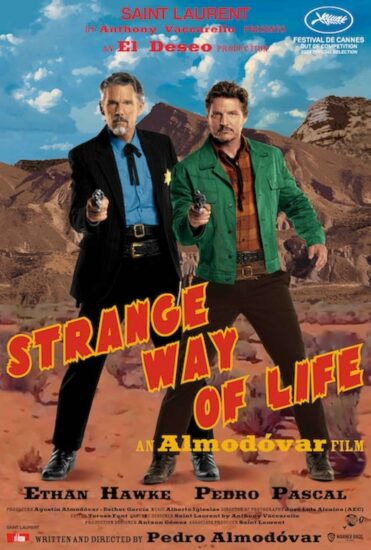 My biggest complaint about
Strange Way of Life
is that it was over much too soon. The latest provocative film from Spanish director Pedro Almodóvar (
All About My Mother)
clocks in at a brief 31 minutes! Almodóvar packs so much into that short time that the viewer is left wanting more.
Ostensibly the story of two grizzled hired guns abruptly reunited after 25 years, Strange Way of Life features lustrous photography, a sumptuous score, and lived-in performances by its two stars, Ethan Hawke and the seemingly-ever-present Pedro Pascal. It is also a gay love story, an unexpected twist for the western genre that is likely long overdue.
Still, the film is a curiosity: an unusual foray into English-language cinema – especially this genre – for the director Almodóvar, and a film without an obvious outlet (theaters are unlikely to screen such a short film). I hope that the story will perhaps be expanded into the full-length feature it deserves.