By Bob Yearick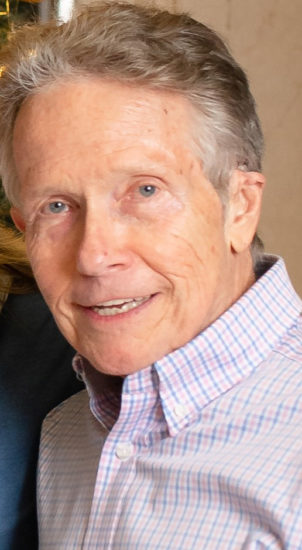 Media Watch
•Reader Joan Burke submits this from fox29.com: "The Delaware State Police announced the arrest of a man who they say tried to disarm a state trooper while he was intoxicated at a school in New Castle County." The unfortunately worded sentence implies that the trooper was intoxicated — at a school yet.
•One of reader Debbie Layton's pet peeves is the unnecessary use of "what." She came across this in a News Journal article about moving out of your parents' house: "It can be very frustrating for the parents and the young adult to be in a more dependent position than what their age dictates." 
•Mike Freeman in USA TODAY: "Fritz Pollard is an historic figure who in 1923 became the first Black quarterback in the NFL." If h is the first letter of a word and it is pronounced (hat, happy, historic), use the article a. If the h is silent (hour, honest, herb), use an. 
•Jarret Bell, in USA TODAY, wrote a sentence that went badly awry at the end: "Britt (Reid) came to the Chiefs with a record that included previous jail time stemming from drug abuse, a road rage incident, and had undergone drug rehab treatment." Aside from the redundant "previous jail time" and "drug rehab treatment," the sentence lacks parallel structure. Possible edit: ". . . a record that included a road rage incident, a stint in drug rehab, and jail time stemming from drug abuse."
•Our correspondent in Bemidji, Minn., Cathy Marchand, sent us this headline from the Bemidji Pioneer:  "If legalized, law enforcement needs funding to address impacts of cannabis use." Pointing out this dangler, Cathy asks, "If law enforcement gets legalized?"
Department of Redundancies Dept.
I must, perforce, call out a redundancy in the May "War." In it, I urged readers to defend the language and, specifically, the misuse of nonplussed with this opener:  "Gird your loins for battle, fellow Word Warriors." Girding one's loins is in itself preparation for battle. In the Bible, it meant to pick up your robe and tie it around your waist, making it easier to run. In modern times, it means to prepare for any confrontation, like asking the boss for a raise, or sharing a meal with someone whose politics are the opposite of yours. 
Matt Meyer Comes Knocking
County Executive (and newlywed) Matt Meyer likes to stay in touch with constituents through emails. Recently, a couple of those missives mentioned his door-to-door campaign back in 2016, and both were in need of some editing (errors in italics; corrections in parentheses):
•"When I decided to run for New Castle County Executive, me and my team of volunteers (my team of volunteers and I) knocked on nearly 10,000 doors in just six months."
•"When knocking on doors and meeting Delawareans in their communities, people of all backgrounds agreed we needed more transparency in government." (This implies that the people whose doors were being knocked on were doing the knocking. A rewrite would look something like this: "While knocking on doors and meeting Delawareans in their communities, I found that people of all backgrounds agreed that . . .")
Food Follies
O&A contributing writer JulieAnne Cross points out that it's Belgian waffles, not Belgium. "We don't say France fries or Britain tea or India takeout, so I don't get why people do this," says JulieAnne, adding, "drives me bananas." 
Preposition Peeves
•Bored of: The traditional expression is bored by or bored with.
•Embarrassed of. One is embarrassed by or embarrassed with. 
•Standing on line. Except in New York and a few other places, one stands in line. This expression is particularly troublesome since the advent of the internet, where everyone is online. 
How Long, Oh Lord, How Long?
(In which we address the ongoing abuse of the apostrophe)
Last month the Kentucky Derby gave us another example of apostrophe abuse when the horse Two Phil's came in second. He was named after the fathers of owner Phillip Sagan Jr. and retired jockey Jerry La Sala — Phillip Sagan Sr. and Phil La Sala, respectively. In other words, two Phils. I count it a karmic victory for the English language that the horse didn't win. 
Word of the Month
apethegm
Pronounced AP-uh-them, it's a noun meaning a terse, witty, instructive saying.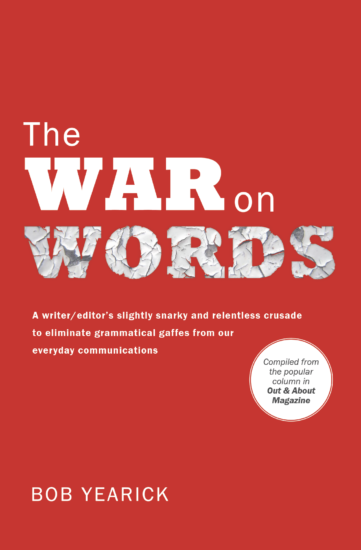 Follow me on Twitter: @thewaronwords
Need a Speaker for your Organization?
Contact me for a fun presentation on grammar: ryearick@comcast.net.
Buy The War on Words book at the Hockessin Book Shelf or by calling Out & About at (302) 655-6483.