Above: Joe Hoddinott with a few of his creations for Twisted Irons Craft Brewing.
By Ken Mammarella
Photos by Joe Hoddinott

Joe Hoddinott notched a new way to judge success when fans started asking for his autograph.
Following his bachelor of fine arts degree in illustration and photography from the University of Delaware, the Newark resident worked for 20 years in illustration, fine art, design and photography. 
Jess Lindenberg — first a model for his photography, later his "artistic muse" and life partner — a decade ago introduced him to the joys of craft beer. And then she saw that Newark's Twisted Irons Craft Brewing Co. was looking for an artist to design beer cans.
They were familiar with the brand. During the pandemic they attended Twisted Irons' outdoor beer events along with Hoddinott's brother, Jon, who worked down the street from the brewery.
He came to his May, 2022, interview with Twisted Irons co-founder Dave Markle with a concept sketch for Flyover State of Mind IPA and was hired on the spot.
He has so far created about 20 designs for Twisted Irons, which appear on cans, posters, stickers and T-shirts, with the merch sold only at the Twisted Irons brewery, 303 Ruthar Drive, Newark.
Fans sometimes reach out to see if he's at the brewery or will visit to sign their purchases. "It's pretty cool," Hoddinott says. "Weird and moving."
Hoddinott was trained at UD to emulate different styles and work in different media, and he has chosen a comic-book style that is done quickly, reprints well and translates easily to other media. 
It all starts with a briefing from Markle and Twisted Irons co-founder Matt Found on each new brew, including the name, why they're making it, its flavor profile and what they want in the label. Sometimes, though, the charge is simpler: "Do whatever you want."
Hoddinott has been most influenced by artists known for comic books and pinups, such as Frank Frazetta, John Buscema, Gil Elvgren, George Petty, Alberto Vargas, Olivia De Berardinis, Adam Hughes and Bernie Wrightson.
The focus of each Twisted Irons design is a seductive female figure, based on photos of Lindenberg's body with, surprisingly, Hoddinott's slimmed-down hands holding the mug of beer, if one is used. His work is all digital fo instance, so he knows that the Sex and Candy Corn graphic took seven hours and 39 minutes. More time follows on completing the label.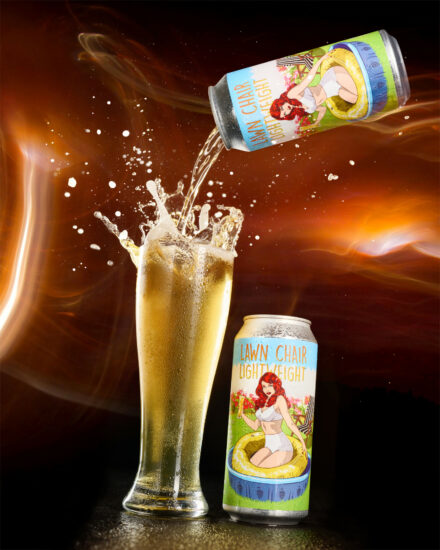 He has also created two labels for Bellefonte Brewing, five for Painted Stave Distilling, 12 for Lost Wonder Brewing (a yet-to-start start-up in which he owns a co-ownership position) and one-offs for home brewers. He invites commissions from his site, www.phojoegraphy.com.
At home, he enjoys a variety of craft beer. On the day on the interview, his fridge had Flyover State of Mind IPA from Twisted Irons, Vader Dark Imperial IPA from Mispillion River, Bellcracker from 2SP Brewing, Newport Nights Imperial IPA from Rogue Ales and Jumpy Jon's Java Stout from Stolen Sun Craft Brewing & Roasting.
"I can see doing this until I die," Hoddinott says, citing the "tons of great people" in the craft beer industry and, of course, the refreshing products that he works on and savors.