Lend an ear to these local up-and-coming acts that encompass pop, rock, alternative music, 'gypsy jazz' and more
Delaware's music scene, while going strong with its favorites, also has a lively undercurrent fueled by new faces and fresh sounds.
We've got our eyes on the following up-and-coming acts:
Dolphin Hotel
dolphinhotelband.bandcamp.com
Self-described dream pop band Dolphin Hotel, with vocalist Kit Simpers, vocalist, guitarist and keyboardist Colton Carr, guitarist and keyboardist Mike Dillon, bassist and vocalist Kyle Simpers, and drummer Jon Fregapane, released their eponymous debut album this summer. Formed just last year, the Newport group is influenced by the sounds of The Cure, Porches, The Mary Onettes, and Wild Nothing.
The members' musical backgrounds vary. Twins Kit and Kyle Simpers have known Carr for years. This is Kit's first music project, but Kyle and Carr were in a few bands together in high school and college. They met producer Dillon during this time, and now he records and produces Dolphin Hotel's music.
"We've been working on promoting the new album, but we haven't stopped writing," says Carr. "We're working on a new EP and hope to have that finished by fall or winter."
Driver's Ed
driversedde.bandcamp.com
DIY-punk-rockers inspired by the '90s emo movement, Driver's Ed's emotional lyrics are backed by forceful chords and catchy guitar riffs.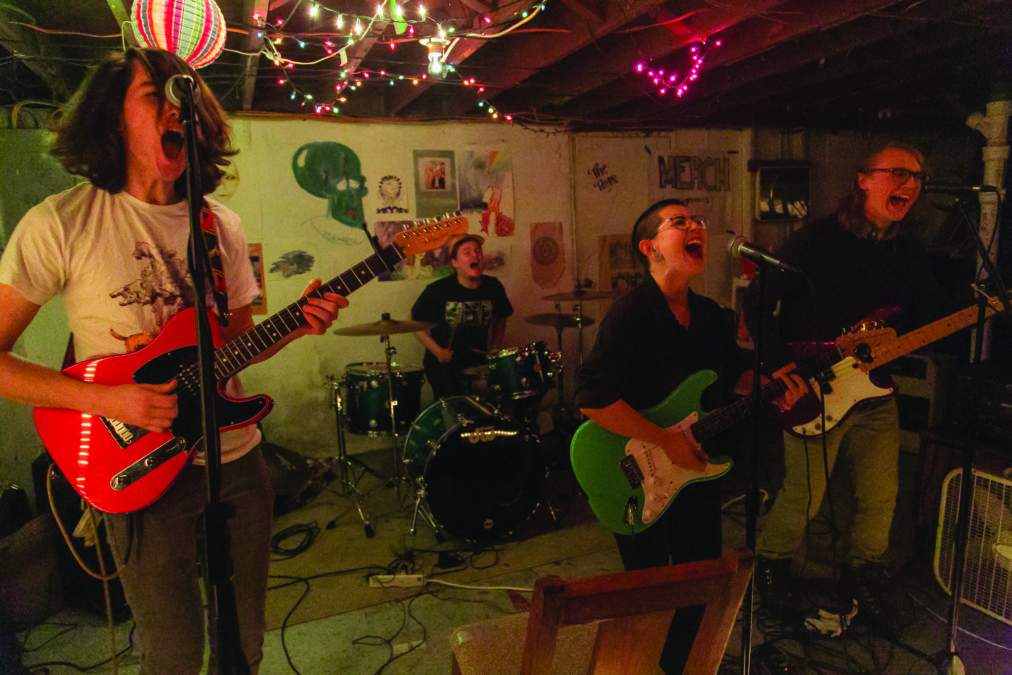 The Newark-based band—vocalist Allison George on rhythm guitar and occasional trombone, Ryan Geary on lead guitar, Nic Pirhalla on bass, and drummer Mitchell Bollinger—formed last year.
They're currently working on independently recording their first EP, which they hope to release in the next few months, says Geary. Their single, "Social Smoker," is up on Bandcamp now.
See Driver's Ed on Saturday Sept. 22, at Newark house venue The Applebee's (email driversedband@gmail.com for address).
Eyebawl
eyebawl.bandcamp.com
What started in 2015 as a solo project soon incorporated more local influential musicians and now, with vocalist Erin Silva on guitar, Brian Bruce on drums and bassist Tyler Yoder, the Wilmington rock trio Eyebawl is finishing their first EP in Philadelphia at Drowning Fish Studios. The band's influences range from Modest Mouse to The Cure and Fleetwood Mac. Their EP, GutterBawl, is out now. Check online for shows.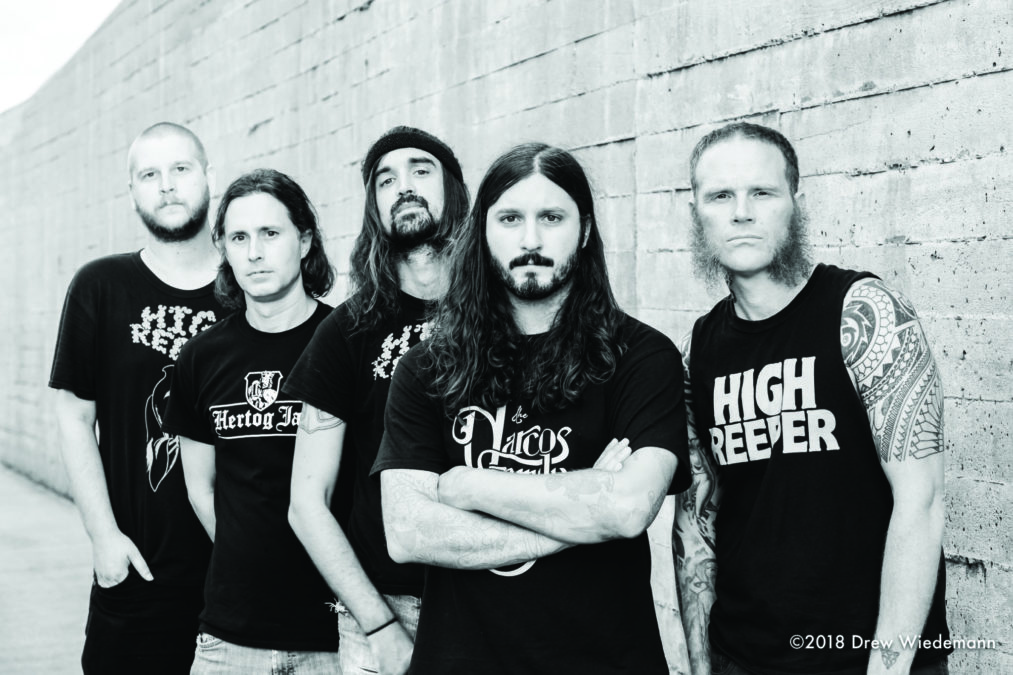 High Reeper
highreeper.bandcamp.com
Wilmington's High Reeper appeared on the local scene in 2016, bringing with it stoner rock/protometal.
Bassist Shane Trimble clarifies: "For anyone who doesn't know the genre, it was born out of the early days of metal and inspired by early Black Sabbath and bands from that era."
High Reeper, made up of Justin Di Pinto on drums, guitarists Pat Daly and Andrew Price, vocalist Zach Thomas and Trimble, formed in 2016 but their roots stretch further back. At various points most members played in the rock band Stallions, which had a five-year run.
Later, High Reeper "kind of assembled itself," says Trimble. "We started writing a record with the intention of just making it for fun and playing a few gigs."
Positive traction led to a record label with Rome-based Heavy Psych Sounds. High Reeper's self-titled debut released in March and the group toured Europe for three weeks in the spring.
"We'll be touring the U.S. in the new year and will be going back to Europe after our second record is released," says Trimble.
Their autumn lineup includes:
Wednesday, Sept. 5, at the Barbary in Philadelphia with Toke and Heavy Temple
Thursday, Sept. 27, at 1984 in Wilmington with Duel and STOP
Friday, Sept. 28, at  Ortlieb's in Philadelphia with Duel and STOP
Saturday, Oct. 27, 1984 with Ecstatic Vision
Hoochi Coochi
hoochicoochi.us
Hoochi Coochi is a self-proclaimed hand-clapping, soul-stirring indie blues band.
"We love talking about the state of the world around us but don't mind being a little cheeky or creating something to make you dance, either," says vocalist and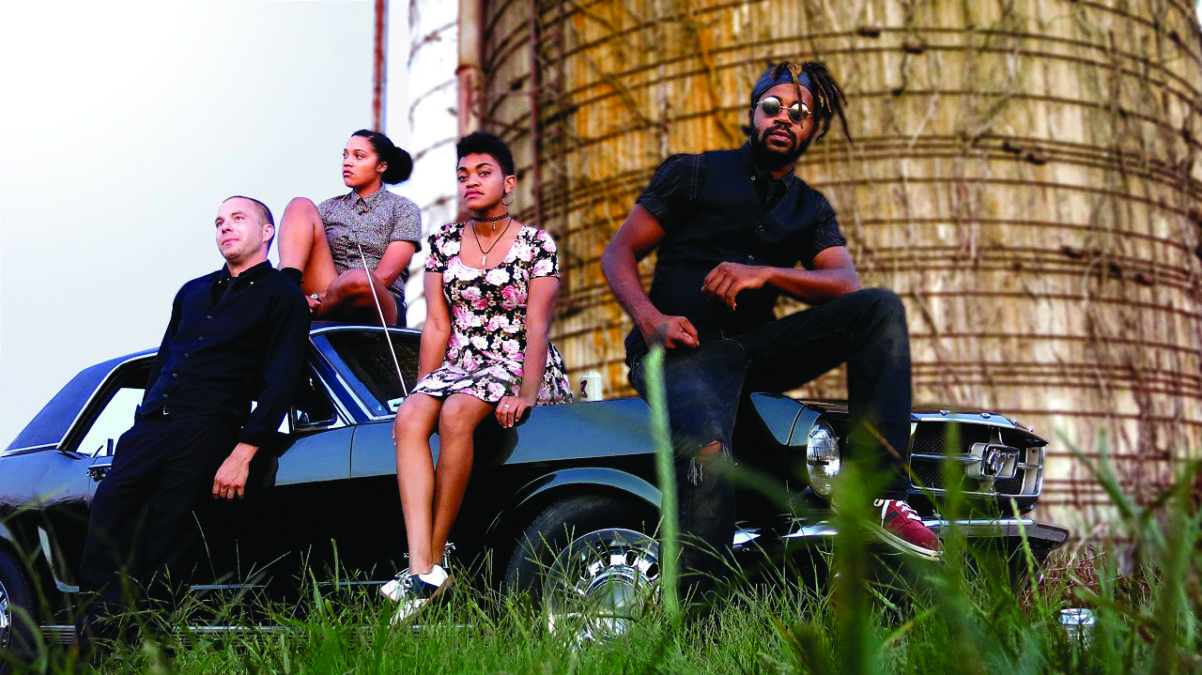 percussionist Danielle "Sug" Johnson.
The band started as a duo in 2015 with Johnson and guitarist Fatz Hawkins, but revamped itself between 2016 and 2017 when drummer Chelsea Grant and bassist Mark Reed joined. Since then, Hoochi Coochi has played all over the East Coast, from college basements to sold-out venues.
Their recent EP, Walkin', produced by Wilmington native Davis Shubs, covers themes from all stages of life—love at first sight, hating your day job, loving yourself and encouraging people to come together and take responsibility for their community.
"The band wanted to create a hopeful and relatable album that everyone could enjoy while remaining true to their artistic selves," says Johnson.
Currently, the band is writing for their next EP and touring, "spreading the Hoochi Coochi gospel," says Johnson. The Dover-based group will relocate to Wilmington this month.
Johnson says that after a busy first two years, line-up changes and personal battles, the newer music has taken a deeper tone, with heavier bass lines and more reflective, bold lyrics. They plan to record this winter.
Here's where you can see them:
Saturday, Sept. 15, at Octoberfest in Medford, N.J.
Saturday, Sept. 15, at Mispillion River Brewing Co. in Milford
Saturday, Sept. 22, at Ladybug Festival in Milford
Saturday, Sept. 29, at The Queen in Wilmington
Saturday, Oct. 6, at Darley Beer and Wine Festival in Claymont
Friday, Oct. 19, at 1984 in Wilmington
Saturday, Nov. 17, at Mispillion River Brewing Co. in Milford
Less Than Five
lessthanfive.bandcamp.com
Carly Jane Scobell and Russell Kutys are Less Than Five, the area's alternative rock and electronic duo.
The live sound of the Wilmington-Newark pair is stripped down and acoustic. Scobell's vocals have a strong '60s and '70s rock influence, matched by her guitar, ukulele and keyboard skills, while Kutys sings backup, raps, plays guitar, bass, drums, plus ukulele and keyboards.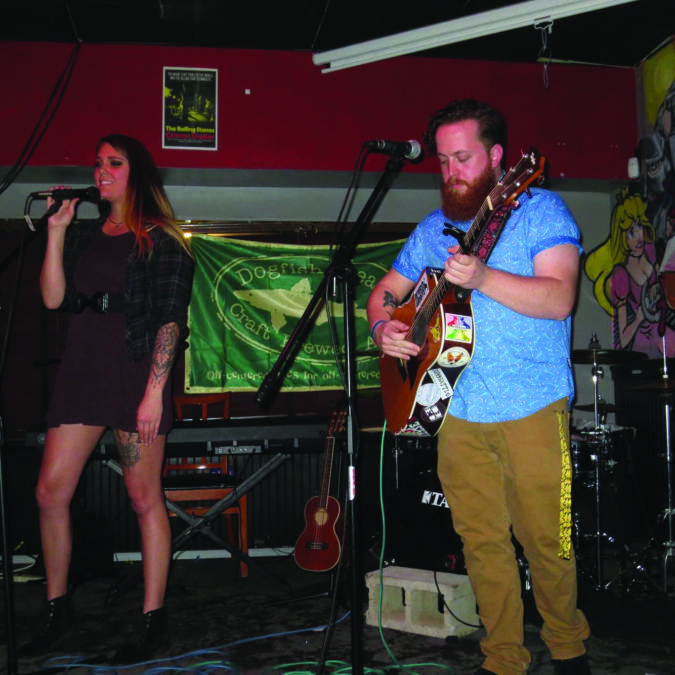 Scobell's indie/rock and Kutys' hip-hop styles have a varied blend. The first song created together was last February, and all subsequent pieces have been thorough collaborations—both members contribute to lyrics, sound and vocals.
Their debut EP,  <5, recorded in Kutys' own studio, can be found on all major steaming networks.
Up next for the duo is the LP Picnic on the Moon. This acoustic album will feature new songs, along with all the songs the band plays live, including the four on the EP.
"Russell is doing all the recording for this one as well," says Scobell. "So far, the songs are acoustic guitar, ukulele, drums, vocals, and/or melodica. It should be ready to be released in October."
See them:
Saturday, Sept. 15, at Oddity Bar with Reverse Giraffe, Giant Boy Detective and Gold Lung Jim
Tuesday, Sept. 18, at Argilla Brewery with Sarah Koon and Psychedelic Puppets
Saturday, Oct. 6, at 1984 with Reverse Giraffe
MEGA
mega.bandcamp.com
Wilmington-based MEGA's roots stretch back to the early 2000s, when the group of friends interchanged projects and names. The current lineup, Phil Matarese, Chris Maloney, Tyler Holloway, Mike Bleinberger and Allan McKinley, stabilized in 2016 and MEGA hit the stage for the first time in early 2017.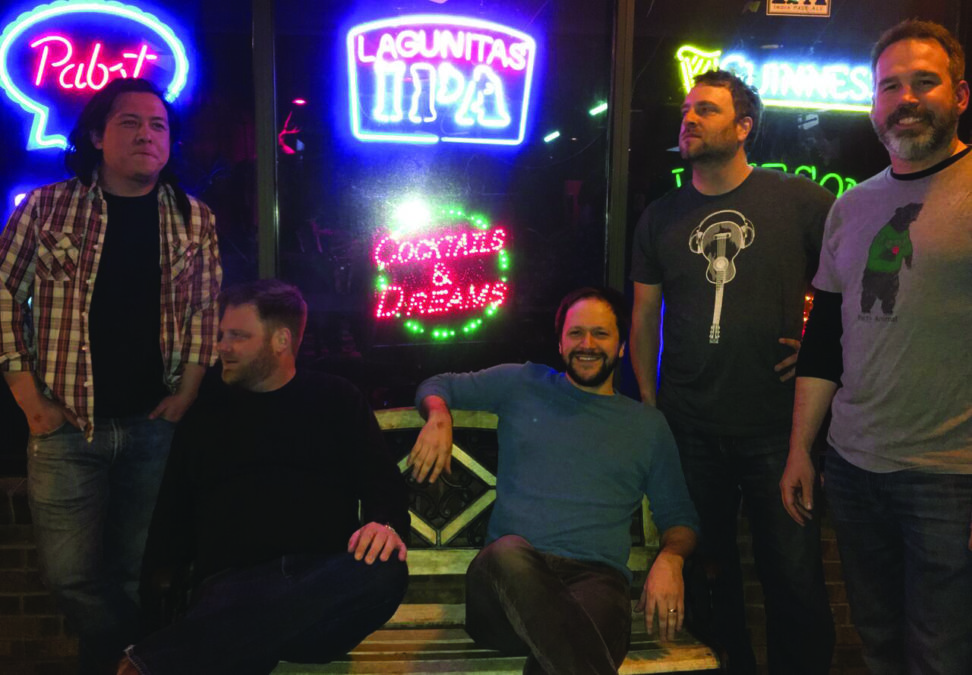 Variety is their mantra. The psychedelic rock band has strong classic rock and prog rock influences—also featuring three- and four-part vocal harmonies.
"That said, we cover territory from island rhythms to gypsy jazz to jam band to early heavy metal," says guitarist and vocalist Matarese.
MEGA's recent record, The Valley Spirit Never Dies, released earlier this year and gained traction with area stations. WHYY picked up tracks to use as part of local projects and news segments.  
Currently, the band is writing new material slated for recording around Christmas.
Here's their upcoming lineup:
Friday, Sept. 7, at Dew Point Brewing Co. in Yorklyn
Friday, Oct. 12 at Oddity Bar in Wilmington alongside Sarah Koon
Friday, Oct. 19, at Kelly's Logan House in Wilmington with The Bad Larrys
Friday, Nov. 16, at Kelly's Logan House with Eastern Elk
Moonflower
moonfloweralt.bandcamp.com
Grunge, hardcore, emo, shoegaze —Moonflower members blend their favorite subgenres in alternative and heavy music, according to drummer and vocalist Andrew Weidert, "often switching from a soft and emotional mood to heavy, in-your-face and noise-filled portions."
Kent County-based, Moonflower recorded two EPs as a three-piece ensemble in 2016. By 2017 their group nearly doubled, with a final lineup of Weidert, guitarist Josh DiLorenzo, bassist Jordan Phipps, drummer Chase Rush and second guitar player Duane Ebersold.
Their most recent release, a collaboration with Newark band Carrier, features songs that include mental health dialogue and the impact that struggles can have in day-to-day life. Currently, Moonflower is working on putting together a tour and writing a full-length record for release in late 2019.
See them on these dates and places:
Friday, Sept. 7, at the Raven Inn in Towson, Md.
Saturday. Sept. 8, at the George Wilson Community Center in Newark
Saturday, Sept. 29, at the Allentown ArtsFest 2018 in Allentown, Pa.
See their page or social media @MoonflowerDE for more tour dates.
sadhound
sadhound.bandcamp.com
What began as a two-piece project for guitarist and vocalist Liam Warren and drummer Jamie Zakreski in 2016 morphed into a full-fledged DIY-emo band with bassist Drew Rackie and new drummer Mitchell Bollinger when Zakreski switched permanently to guitar.
"Algernon Cadwallader, Jimmy Eat World, Grown Ups and Christie Front Drive are a few bands we are influenced by," says Warren. "More recently, we have been experimenting with styles often utilized by screamo bands like Orchid, Loma Prieta, Suis la lune, Kodan Armada and Beau Navire. We take pride in our DIY-method of making our music."
Based in Newark, sadhound released a self-titled album in 2017, and sticking to their DIY-theme, it was recorded in a garage. The musical result is a little rough and sloppy, says Warren, which is exactly how they like it.
Currently, sadhound is working on a new EP to be released through Impetus Records (title and release dates TBA).
Check Facebook and Instagram @sadhoundband for upcoming shows.
Terretta Storm
reverbnation.com/terrettasstorm
"The Terretta Storm sound is for all of you that are searching for original music that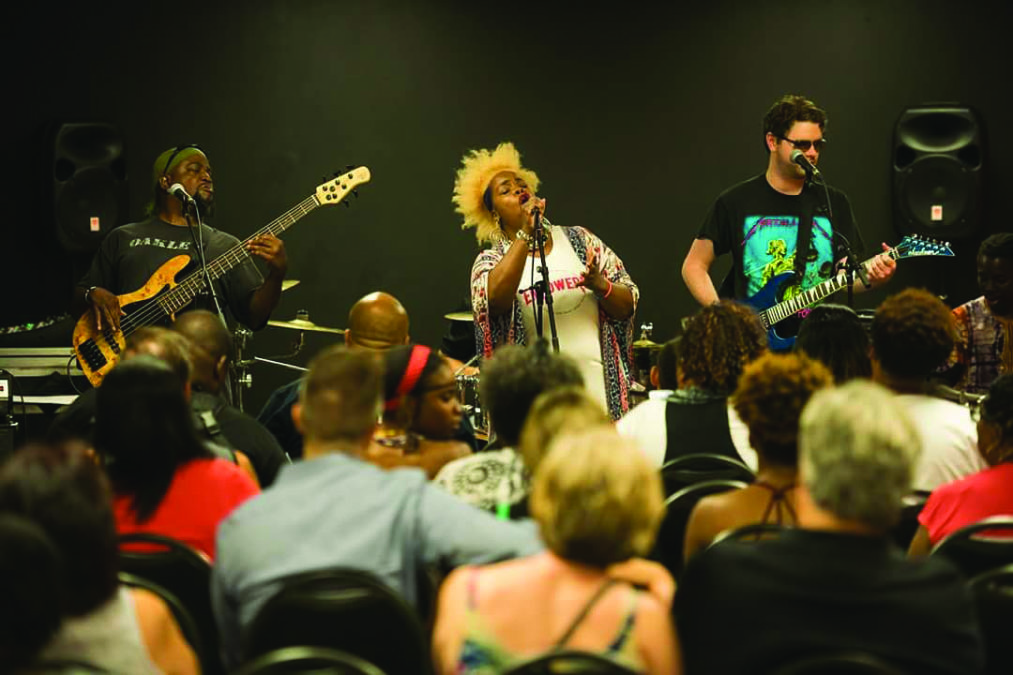 touches the emotion," says Wilmington rock, pop and gospel singer-songwriter Terretta Howard, aka Terretta Storm. "If you turn on the radio and are tired of the same old repetitive sound, then come and give us a try. Take a journey through my life and hopefully you will find something that grabs, resonates and inspires you."
Howard's powerhouse vocals, backed by thought-provoking content, have led her from a one-woman show to a four-piece band featuring Patrick Daniels on lead guitar, Randy Waters on bass and Micheal Leger on drums.
"No longer am I myself just Terretta Storm—we are Terretta Storm," says Howard.
This month, Terretta Storm releases a single "Itchy Trigger Finger," and later in the month they will hit the road on a tour to Boston, New York and Connecticut.
See them on Friday, Nov. 23, at the Underground in Lansdale, Pa., alongside Philadelphia-based band Black Cat Habitat.