Not-to-be-missed music news
Two Nights of Metheny's Jazz
James Francies and Marcus Gilmore join jazz guitarist Pat Metheny on Tuesday, Aug. 27, and Wednesday, Aug. 28, for two nights of music and improvisation at The Baby Grand (818 N. Market St.) beginning at 8 p.m. Known for combining traditional jazz guitar with modern music technology, Metheny presents a unique take on jazz. For more information, visit thegrandwilmington.org.
Hanson, The Queen Help Kids
The Queen, at 500 N. Market St., presents Hanson: The Help our Kids Concert on Thursday, Aug. 22. For their 25th anniversary, this Tulsa pop-rock band will perform music from their new album Middle of Everywhere-The Greatest Hits. Money raised will be donated to Nemours Alfred I. duPont Hospital for Children. This is an all-ages event. Doors open at 7 p.m. for the 8 p.m. performance. For more information, visit thequeenwilmington.com.
Riverfront Gets the Blues
Two stages will host 18 different acts at this year's Riverfront Blues Festival, at Tubman-Garrett Park on the Wilmington Riverfront, Saturday and Sunday, Aug. 3 and 4. Acts include Roger Girke, The Phantom Blues Band, Walter Trout and Blues Reincarnation Project. The weekend of music will begin Saturday at 11 a.m. and will continue rain or shine through Sunday. Admission is free for children 12 and younger. For ticket information and more, visit riverfrontbluesfestde.com.
Dew Point Does Reggae
Continuing its Summer Concert Series, Dew Point Brewing Co. (2878 Creek Rd., Yorklyn) presents Dew the Reggae Music Festival on Saturday, Aug. 17, beginning at noon. A diverse reggae lineup will perform, including Spooky Speaky, the Bullbuckers and more. "The community has totally bought into the Summer Concert Series," says Dew Point founder John Hoffman. A variety of Dew Point beer styles will be served with food provided by food trucks. For more information, visit dewpointbrewing.com.
Get your Firefly Hoodies
For those who missed the merchandise stands at the event, 2019 Firefly Music Festival's official gear is now available online. Hats, T-shirts, hoodies and other collectibles are available in several colors and styles. For more information, visit fireflyfestival.com
Sinning for 45 Years
The Delaware Rock and Roll Hall of Fame's The Sin City Band will hold a free concert to celebrate 45 years on Wednesday, Aug. 7, at Anson B. Nixon Park, 405 N. Walnut St., Kennett Square, Pennsylvania. Come for live music, dinner from Portabellos Restaurant and dessert from La Michoacana Homemade Ice Cream or Sweet Magnolia Bakery. This performance will end the concert series that has run every Wednesday in Kennett Square. Admission is free for all ages. Concert starts at 7 p.m. For more information, visit kennettflash.org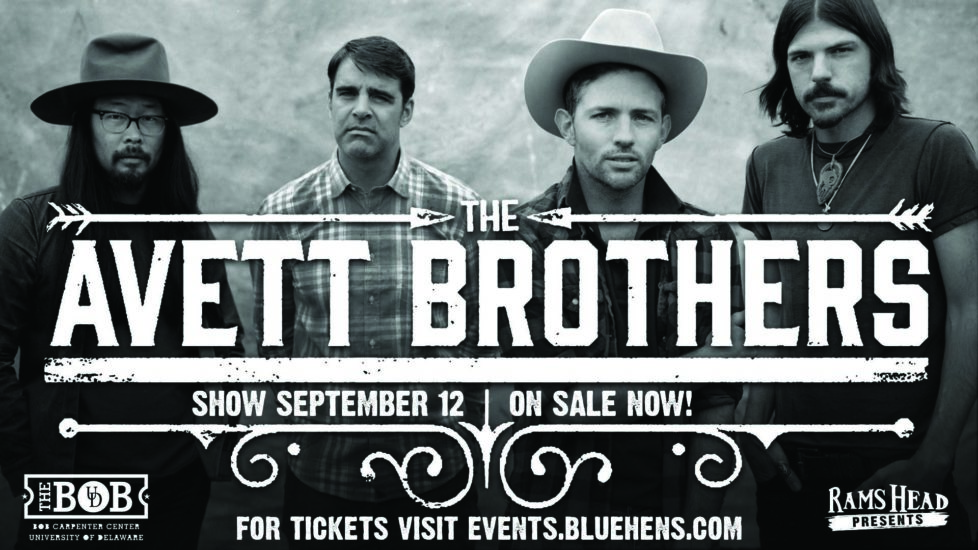 Folky Avetts Will Rock Carpenter Center
The Avett Brothers will bring their folk-rock sounds to the University of Delaware's Bob Carpenter Center (631 S. College Ave.) on Thursday, Sept. 12, at 8 p.m. Started in Concord, North Carolina, by brothers Scott and Seth Avett, the band includes several other talented musicians as it tours the country. Tickets start at $49. Parking is $10 per vehicle. For more information, visit theavettbrothers.com.
Wilmington U. Partners with Music School of Delaware
The Music School of Delaware is now offering for-credit college level courses in two subjects. Whether you are a high school student looking for extra electives or already enrolled at Wilmington University, this opportunity will allow you to gain transfer credits toward your degree. Take a class in the Elements of Music or Introduction to Piano and receive instruction from The Music School of Delaware professors while enrolled at Wilmington University. For more information, visit themusicschoolofdelaware.org.