By Bob Yearick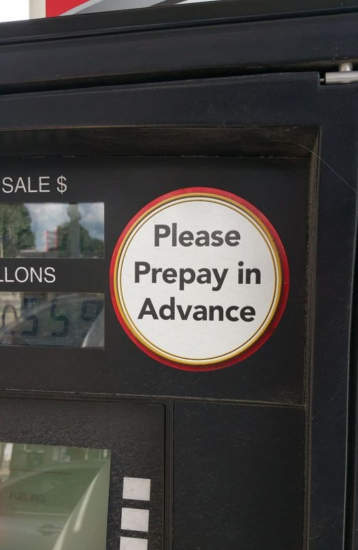 Department of Redundancies Dept.
• An NPR commentator spoke of "an ominous portent." Ominous: threatening, portentous. Portent: a sign or warning that something, especially something momentous or calamitous, is likely to happen.
• On Sunday Today with Willie Geist, the host spoke thusly:  "The 42-year-old was nominated for a fifth career Oscar nomination."
• Josh Tolentino, in The Philadelphia Inquirer: "That leaves one spot left for a handful of intriguing players. "
• Son Steven caught this line from a Nutrafol commercial: "Once I started using Nutrafol, I could visibly see my hair getting thicker." Asks Steven: "As opposed to audibly see?"
• Also, see photo at upper right.
Misnomer (Again) 
As discussed previously, a misnomer is a wrong or inaccurate name or designation. E.g., "The name 'Greenland' is a misnomer, since much of the island is covered by a massive ice sheet." But many people have failed to heed our admonition and continue to think the word means a mistake or misconception. For example: 
• A scientist on CBS News Sunday Morning, speaking of the belief that lightning always strikes the highest point. "That's another misnomer."
• New York Jets quarterback Aaron Rodgers, quoted in USA TODAY, discussing Hard Knocks, the documentary series produced by NFL Films and HBO: "There's a lot of misnomers about it." 
Media Watch
The first two come from The Philadelphia Inquirer: 
• Josh Tolentino is back with a strange choice in prepositions: "Veteran center Jason Kelce lingered, and he casually spoke with onlookers, standing from the middle of the room." Am pretty sure he stood in the middle of the room.
• Stephanie Farr: "These are all questions I never expected to ask inside of an old Forman Mills store, at least not before the apocalypse anyway." No need for of after inside, and one of the qualifiers — at least or anyway — needs to go.
• An NBC reporter called the Maui fire "the most deadliest in the state's history." The double superlative lives!
• And finally, three of my ever-alert readers spotted this headline on Delawareonline: "Sewerage halting clam harvesting on Indian River Inlet." That's sewage. Sewerage is the infrastructure that conveys sewage.
Language Gone Awry
• Kelly Lawler, USA TODAY, in a review of the Netflix series Painkiller: "But it's not serious enough for the crimes committed by companies hocking opioids to the public." To hock is to pawn something;  also, less delicately, to forcefully spit out a mass of saliva and phlegm. To hawk (the word needed here) is to sell or attempt to sell something, especially in a loud and intrusive manner. 
• From the Williamsport Sun-Gazette, courtesy of reader Luann Haney, comes this nightmare of a sentence: "The players, who visitors may see at the complex dawning their Warrior baseball caps, are in their second year fundraising . . ." First, who should be whom, since it's the object of the verb see. Second, and most egregiously, the writer used dawning (the beginning or first appearance of something) when he meant donning (to put on a piece of clothing). But, had he used donning, he still would have been wrong because he meant wearing. Unfortunately, many writers think that's what donning means. And finally, it's "their second year of fundraising."
• Later in the same story: "With the abundance of people that attend the complex each year, the opportunity to raise funds are fruitful at the expense of the long hours worked." Let's disregard the clumsiness of the sentence while pointing out that the verb should be is, since the subject is the singular opportunity, not the plural funds. 
• Reader Debbie Layton reports that Delaware Today, in a story about Great Getaways, included this quote from a real estate agent: "Rental prices start to go down immediately and they crescendo a bit downward each week after that." Things that crescendo go in the opposite direction: up.
• Mick Jagger, commenting on the passing of Little Richard: "Everyone was beholding to him." Mick meant beholden — "being under obligation for a favor or gift."
Word of the Month
autodidact
Pronounced auto-di-dakt, it's a noun meaning a self-taught person.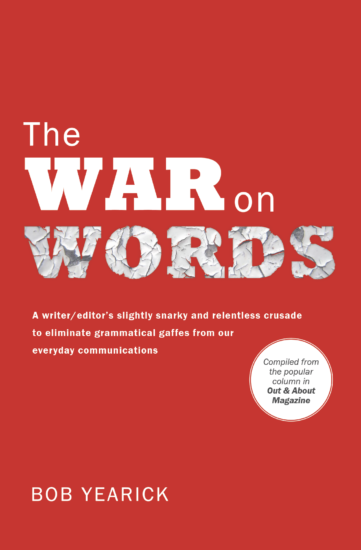 Follow me on Twitter: @thewaronwords
Need a Speaker for your Organization?
Contact me for a fun presentation on grammar: ryearick@comcast.net.
Buy The War on Words book at the Hockessin Book Shelf or by calling Out & About at (302) 655-6483.