The lauded and much coveted space, part "modern general store" part fine dining experience, serves as the cornerstone of the borough's restaurant scene
It's 1:30 on an uncharacteristically hot May afternoon in Kennett Square, and Talula's Table is well into the second shift as what owner Aimee Olexy likes to call its function of "a modern general store."
If what immediately comes to mind is the old-fashioned one-stop shop for dry goods, meats and other provisions, you're not too far off the mark. But whatever general store you're imagining—whether from your own experience or classic media representations—chances are this spot exceeds your expectations.
Early in the day, the seats just inside the front window would have been crowded with patrons enjoying a leisurely cup of coffee, while the working folks lined up for a fresh-baked pastry and a hand-prepared caffeine fix. Later this afternoon, the 9-to-5ers will congregate toward the back of the shop, picking up prepared dinners or perhaps a bag of artisanal pasta and a house-made marinara.
At this moment, it's calmer. Late lunch-goers are still filing in, but the lunch rush is over. A neighboring shopkeeper is greeted with exuberant hugs from the staff. Tourists, who may have spent a sweaty morning at nearby Longwood Gardens, lean in the door, perhaps intimidated by the reputation of Talula's evening prix fixe dinners as what Vogue magazine called "the toughest reservation in America." But they are pleasantly surprised by the welcoming vibe, as well as the prepared sandwiches and salads. Meanwhile, a couple lingers over a laptop and smartphone at the family-sized farm table that forms Talula's physical and emotional core, as well as the shop/restaurant's namesake and what serves as the centerpiece of a growing and thriving Kennett Square dining scene. 
Kudos from The New York Times
So, if all you know of Talula's is the fine dining destination that requires dinner reservations for its 12 seats a year to the day in advance and has been lauded by the likes of Condé Nast Traveler and the The New York Times, you haven't had the full experience. You also don't understand why the ripples set in motion by its opening more than a decade ago continue to spread change in this tiny Pennsylvania borough of just over 6,000 residents.
Before the success and accolades, however, Olexy had to fight what might be the small business person's biggest enemy —skepticism. In the beginning, Kennett Square locals simply didn't think the Talula's Table concept would work, and it had very little to do with the elusive dinner reservations at the eponymous farm table. Instead, the townsfolk were dubious that there would be enough business to justify her planned hours of 7 a.m. to 7 p.m., every day of the week.
"People would be like, 'why are you open on Sunday?' Even operators [of other businesses] in town would say, 'Oh, you don't need to be open Sunday. Nobody comes,'" says Olexy. "But if I'm going to be the modern general store, we've got to be open every day of the week. You know, if you're going to bring it, you've got to bring it. But I definitely got the funniest areas of pushback that I never would have expected insofar as the areas like when people would come and what they'll eat."
She chalks up part of that to both a widespread misunderstanding of the restaurant business, and people underestimating her commitment to food.
But get it they have, says Mary Hutchins, executive director of the downtown development organization Historic Kennett Square.
"Aimee set the stage," she says. In what was once a landscape of fast food and old-style taverns, Talula's "was validation that restaurants could succeed in Kennett. When they came and sort of put their stick in the ground and said, 'We believe in Kennett,' that was a turning point. It really captures the best of both worlds—that small-town charm along with the national recognition."
Eight-Course Meals
That recognition, generated primarily by Talula's unique eight-course dinner that limits the number of guests to a maximum of 12, booked a year in advance, has been priceless, Hutchins says. "That's huge for a small town to have access to that kind of media."
Then, of course, there's the table itself, which has become iconic not just for the hard-to-get dinner seats, but for the communal experience it provides to patrons the rest of the day. While it's possible to find a semi-private two-top in the front of the store, the majority of Talula's seating is in the center of the space in one of the 12 mismatched chairs surrounding the farm table. In the beginning, the arrangement fueled even more skepticism that breakfast and lunch customers wouldn't sit at a communal table and would instead prefer to maintain their own space.
"People were like, 'Who's going to want to sit down with strangers and have their meal?'" Hutchins says. "And now we do it all the time and never think about it. And it's almost sort of set the stage for some of the other restaurants in town, like Kennett Brewing Co., with their tables kind of open like that, where you're usually sharing tables with another party."
Now, after 10-plus years of people sitting at that table, it's become a gravitational center around which much of Kennett's social and business growth has developed.
"We've had people meet around the farm table and get married," Olexy says. "I feel like we've trained people that it's OK to sit next to this guy. They didn't have options before."
And now that there is more competition—specifically the triple threat of Wegman's, Whole Foods and Trader Joe's having opened within a 15-mile radius—she hopes customers will still choose her community table over the lonely supermarket café table.
Some of those who have broken bread at Talula's have gone on to remarkable things beyond marriage, she notes. "The Creamery folks sat around the community table and something got in their bloodstream and they said, 'This is cool. Let's expand on this good feeling we have.'"
What resulted was a warm-weather pop-up beer garden in a formerly vacant industrial space that emphasizes a community vibe with local brews, food trucks and an inviting atmosphere.
"It's the same thing—you're sharing tables and you don't hesitate to ask, 'Can I sit here,'" Hutchins says. "You just pick up a conversation with a stranger, which just enhances that whole sense of community. We would definitely be diminished without Talula's Table and without Aimee being so creative in doing what she does."
An Eight-Course Feast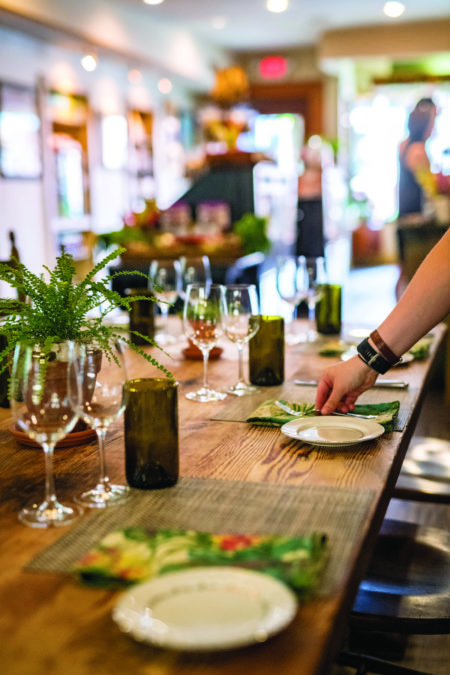 Whether you heard about them from culinary magazines or your neighbor down the street, dinners at Talula's Table are legendary for both the level of cuisine served and the unpretentious, family-like atmosphere. It's a combination that makes getting a seat at the table extremely challenging. Should you be so fortunate, here's a taste of what you'd experience during the evening's eight courses either at the Farm Table (complete parties of 8-12 guests, in the main room) or Chef's Table (4-8 invited guests, seated in the kitchen):
Radishes and anchovy butter, sweet peas, sea salt, teeny wheat crisps
Green eggs and ham, spring asparagus emulsion and truffle
Seared scallop, lemon artichoke aioli and crispy leaves
Pasta "primavera," handmade pasta, foraged spring delights, pecorino
Spiced spring lamb, roasted strawberry, mint, cucumber and poppy yogurt
Crispy duck, sweet onion-barley risotto, carrot and black pepper
Beehive Creamery's Barely Buzzed, honey and nut bark
Rhubarb and lemon custard, warm lavender madeleines