By Bob Yearick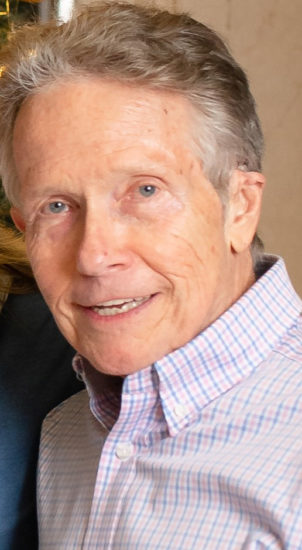 Get on the Buss
There is a podcast called "Bussin' with the Boys," which features NFL players Will Compton and Taylor Lewan. The title is a play on the camaraderie and good-natured trash talk that develops on team buses. However, the title doesn't mean what Compton and Lewan think it means. Bussing — with the extra s — means "kissing, snogging or osculating." 
Busing, on the other hand, means either "transporting someone in a bus" or "removing dirty dishes from [as from a table]." (Some dictionaries accept bussing as a variant, but the AP Stylebook — our bible — insists on busing.) 
I'll leave it to someone else to tell "The Boys" about their error.
Phony Sophistication
A WDEL reporter recently asked for a guest's thoughts on a current event with this question: "What is your purview of the situation?" Purview means "the range or limit of authority, competence, responsibility, concern, or intention." The reporter apparently thought that purview is a more sophisticated way of saying simply "view" or "opinion." 
This reminds me of the more common mistake of using penultimate to mean the absolute best, even more ultimate than ultimate, when it actually means "the next to last." Again, phony sophistication.
Media Watch
•I long ago ceased to be surprised by mistakes in The New York Times. Here, from a reader, is the latest: "The hint for Number 4 down in the Times mini-crossword puzzle was 'Golf hole-in-ones.'" The correct term, of course, is holes-in-one.  
•Scooby Axson, in USA TODAY, writing about University of Detroit Mercy basketball star Antoine Davis: "At first glance, Davis wouldn't seem like a candidate to be such an opposing figure on the court." I'm pretty sure The Scoobster meant imposing (impressive, daunting).
Department of Redundancies Dept.
Comment on a Philadelphia Eagles Facebook page: "It was a unicorn season for them, which doesn't come along very often." That's the point of the unicorn metaphor — it identifies something that is rare and treasured — something that doesn't come along very often.
Out, Damned Of
Reader Debbie Layton shares my annoyance with what has been called "the intrusive of" in sentences like these:
•From Time magazine, courtesy of Debbie: "The gambit might lack as wide of an appeal as conservative leaders believe."
•From PSU OUTSPOKEN, a Facebook group devoted to Penn State sports:  "If you were still wondering how good of a program Cael Sanderson has built at Penn State, the answer is really, really good."
While using of in these constructions is not technically wrong, it's something the careful writer or speaker avoids. 
Also, it's annoying. 
Comma Concerns
The comma may be the second most-abused punctuation mark (the apostrophe is a solid Number 1, of course). It's absent when it should be present and it is often misplaced, appearing where it shouldn't. Below are examples of both problems.
Absent from a headline in USA TODAY: "Super Bowl was Blackest, most woke ever. Sorry haters!" When addressing someone, even in a headline, there should be comma after the first word (or words) in the address. 
Correct examples: How are you doing, Jane? Hello, Bill. I got you, babe.
Misplaced in the subject line of a Texas politician's fundraising email: "Let's Talk, Texas." Now, if this were a message sent just to Texans, that might work. But the first line — "Dear Bob, it's time we have a talk about Texas" — made it obvious that she wanted to talk about Texas, not to Texans. 
Another common misplacement of the comma occurs after titles. E.g., "Wilmington Police Chief, Wilfredo Campos." Kill the comma.
On the other hand, "Wilmington's police chief, Wilfredo Campos," refers to the position and is no longer a title. Thus, it requires commas around the name and eliminates the need for capitalizing the title. 
Literally of the Month
NBC News reporter Jacob Soboroff, commenting on Rihanna's baby bump reveal during her Super Bowl halftime show: "It literally sent the social media world into a total meltdown." News outlets periodically report that social media has gone "into total meltdown," which in itself is hyperbole. Adding "literally" is ludicrous overkill.
Word of the Month
jeremiad
Pronounced jerry-MY-ad, it's a noun meaning a prolonged lamentation or complaint. Also: a cautionary or angry harangue.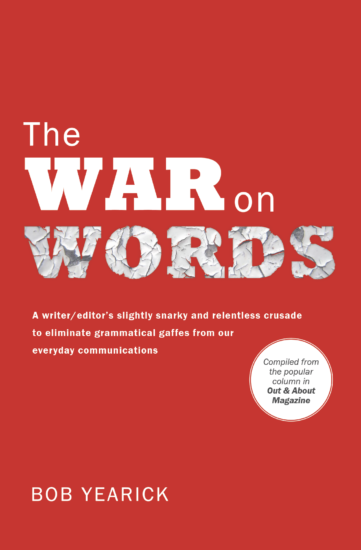 Follow me on Twitter: @thewaronwords
Need a Speaker for your Organization?
Contact me for a fun presentation on grammar: ryearick@comcast.net.
Buy The War on Words book at the Hockessin Book Shelf or by calling Out & About at (302) 655-6483.