Above: David MacIntyre (l) and Wade Horton turned a problem into a business with the creation of Delaware Tool Exchange.
By Bob Yearick
Photos by Joe Hoddinott
Like a candy store for anyone who does woodworking, machine work, or home repair."
That's one customer's description of Delaware Tool Exchange (DTX), a Newark business started eight years ago by a couple of lifelong friends, Wade Horton and David MacIntyre.
DTX consists of a showroom, at 1007 S. College Ave., and a warehouse, three blocks away at 1251 Coochs Bridge Rd. 
Inside, customers can find all manner of pre-owned tools and equipment plus safety gear and other items. The constantly changing inventory ranges in size from compressors, table saws — even a tractor — down to hand tools, including vintage items, as well as lawn and garden equipment, plus standard hardware like bolts, nuts, screws, and nails.
It could be said that Horton and MacIntyre inherited the business from their fathers, both of whom passed away in 2012. Horton's father was a woodworker, and MacIntrye's had been an electrician's mate in the Navy and was handy around the house. As a result, both estates included large assortments of tools, many of them duplicates. 
The two friends, who live in Newark, took what they needed from the estate, then tried to sell the rest online and through combined garage sales. But those methods soon became what MacIntyre calls "a hassle."
"We came to the realization, frankly, what a pain in the butt it is to sell things online. You have people coming to your house that you may not want there, and pretty often they're low-balling you. And sometimes they just don't show up."
Consignment Only
Then, one night in 2014, "over a beer," the two buddies hit on the idea that became DTX. They incorporated the next year and opened the warehouse on Coochs Bridge Road. Last year, after securing a $25,000 EDGE (Encouraging Development, Growth and Expansion) Grant from the state, they opened the College Avenue store.
DTX is strictly a consignment operation. When people bring in their tools, MacIntyre says, "We set the price — rule of thumb is about 50 percent of what the item costs new." When the item sells, the business splits the price 50-50 with the consigner. If the item doesn't sell after 90 days, the consigner can elect to take it back or leave it at the store. DTX usually gives unsold merchandise to Habitat for Humanity or Goodwill. 
Advertising is largely word of mouth, Facebook Marketplace, and the website — DelawareToolExchange.com.
Horton and MacIntyre grew up in Delaware County, met each other in junior high and graduated from Garnet Valley High School in 1981. Army veterans who had successful civilian careers, both retired within the past three years. Horton is married with two grown sons and MacIntyre and his wife have a grown daughter.
DTX, which started as a side gig, has pretty much become a full-time retirement job. The store is open Tuesday through Saturday, 10 a.m. to 6 p.m., and the warehouse is open Monday from 10 a.m. to 4 p.m., or by appointment. Monday is consignment day, when the partners take in new consignments. That's why veteran customers know to visit the store on Tuesdays and see what's been added to the inventory, which can total 1,500 items, according to MacIntyre.
Pat Wisniewski has been one of those customers since DTX opened eight years ago. He's the one who called it a tool-lover's candy store. Wisniewski is an arborist, former owner of multiple bicycle stores, and a member of the Delaware Woodworkers Guild, First State Woodturners, and The DelVal Turners in New Jersey. 
 "You never know what's going to be there," he says. "It's always a treat to go in and browse, and they're very helpful and knowledgeable about what they have."
Chuck Skelley, Wisniewski's friend and also a customer almost since day one, describes himself as "a tool junkie." A woodworker, cabinetmaker, and past president of the Delaware Woodworkers Guild, Skelley retired in 2018 after 40 years as senior carpenter at the University of Delaware.
"[DTX] is only about 15 minutes from my house, so I drive over and see what they have about once a week," he says. "They have their web page, but not everything's advertised, so it's good to look around. And it's always good to talk to them. Dave and Wade are both very nice. I've sent several people to them."
Inside Jokes
MacIntrye generally manages the store, taking phone calls, greeting customers and doing the Excel spreadsheets and online postings. Horton usually can be found at the warehouse, cleaning the latest items — "making them curb appealable."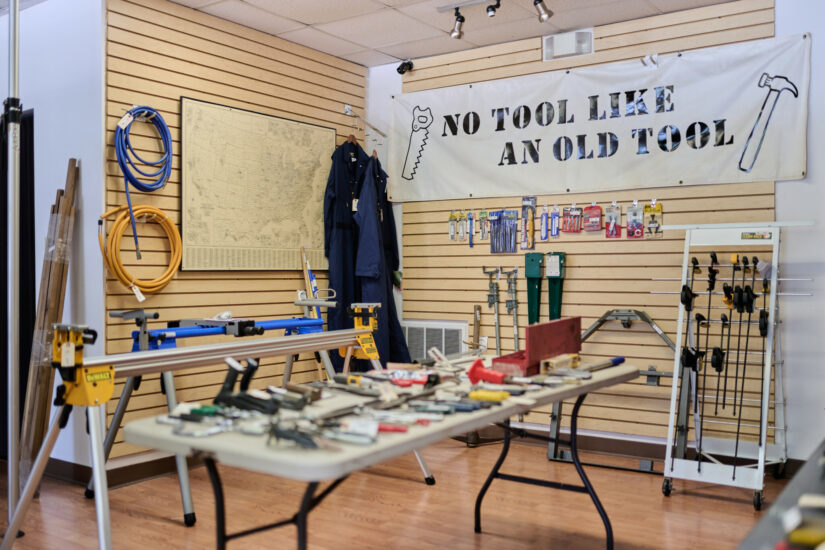 He says the two have an easy working relationship, with plenty of inside jokes. In fact, he says, "Dave and I have figured out we're the only people in the world we could do this with. The way that we run it is an idea unto our own." Thus, he says, it's unlikely they'll be adding any employees. "It's easier to do it ourselves."
Horton has an associate degree in engineering. He was a nuclear missile repairman in the Army and spent his civilian career working with his hands.
MacIntyre, with a bachelor's degree in economics and a master's in geography/regional planning, retired from the Army Reserve as a lieutenant colonel. In civilian life, he specialized in quality assurance and contract administration. He readily admits that he is not handy and that Horton definitely is.
MacIntyre and his wife recently moved into an apartment, where management takes care of repairs and maintenance. Which, unlike DTX's customer base, is just fine with him. "Instead of a set of tools," MacIntyre says, "I have a telephone."- 
— For more information on Delaware Tool Exchange, visit delawaretoolexchange.com or call 302-585-6923