Thaw out with these entertaining seasonal options—lively parades, flower market finds, a fundraiser brunch and more
CANCER SUPPORT COMMUNITY DELAWARE'S RED BALLOON BRUNCH
Sunday, March 6
Deerfield Country Club, Newark
11 a.m. to 2 p.m.
cancersupportdelaware.org
In its 11th year, this fundraising brunch, featuring gourmet food and an open bar with bloody marys, mimosas, wine and beer, will draw upwards of 150 guests. A silent auction will add to the funds raised, which will go toward programs at the Cancer Support Community Delaware—now celebrating its 20th year.
DOWNTOWN ST. PATRICK'S DAY PARADE
Saturday, March 12
4th & King streets, Wilmington
Noon
irishde.org
The 41st annual parade starts at 4th & King and heads north on King, continuing past Rodney Square. And back by popular demand is the St. Patrick's Day Post-Parade
Hooley, which will be held at the end of the parade route under a large tent. The Irish Culture Club of Delaware—the parade and event host—will sell commemorative mugs, which come with unlimited beer refills.
ANNUAL SHAMROCK SHUTTLE
Saturday, March 12
Various locations in downtown Wilmington
7-11 p.m.
outandaboutnow.com
On the heels of the St. Patrick's Day Parade and Hooley is the largest St. Paddy's Day party. Loop clubs include: 8th & Union Kitchen, Anejo, Catherine Rooney's, Chelsea
Tavern, Dead Presidents, Ernest & Scott, FireStone, Gallucio's Café, Grotto Pizza, Kelly's Logan House, Lavish, Satsuma Asian Kitchen & Bar, Shenanigans, Timothy's on the Riverfront and The Wicked Vine. Purchase your shuttle wristband at the first Loop venue you visit.
WILMINGTON WINTER BLUEGRASS FESTIVAL
March 18-20
Crowne Plaza Wilmington North, Claymont
wilmingtonwintergrass.org
The Wilmington Winter Bluegrass Festival features three days of jam sessions, bluegrass concerts, workshops and the festival's signature Gospel Sunday. Volume Five, Gold Heart Sisters, Blue Mafia, Feinberg Bros, Cold Chocolate and Cindy G. are some featured artists.
WILMFILM
Thursday, March 31
Penn Cinema Riverfront, Wilmington
7 p.m.
wilmfilm.com
Three films will be previewed with a reception beforehand. The annual film showcase, which has reached its fourth year, is taking a new turn – typically a weekend-long festival, it is now a one-night-only event.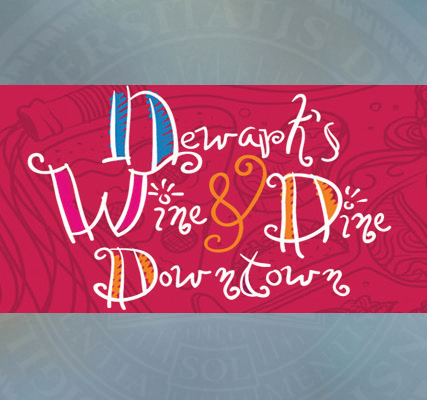 WINE & DINE DOWNTOWN
Saturday, April 2
Various restaurants, downtown Newark
1-8 p.m.
cityofnewarkde.us
A culinary and wine extravaganza, featuring an array of tasty delights prepared by the chefs of downtown Newark's restaurants, will be complemented by fine wines from around the world. Fifteen to 20 downtown restaurants will take part in this celebration of food and drink, serving up gourmet foods to showcase local skills.
CITY RESTAURANT WEEK
April 4-9
Various locations, Wilmington
cityrestaurantweek.com
Wilmington's fine dining scene is dominated by owner-operators, without a chain restaurant in the bunch. The result? Sixteen restaurants to select from, offering varied menus, such as Thai, Chilean and, of course, Italian. Better yet, you get to sample the creative cuisine of these fine dining spots with prix-fixe prices of $15 for lunch and $35 for dinner. Chelsea Tavern, Mikimotos and Washington Street Ale 2016 House are just a few of the participating establishments. For more, visit the website.
HEART OF THE HOME KITCHEN TOUR
Saturday, April 9
9:30 a.m. to 4:30 p.m.
Greater Wilmington area
jlwilmington.org
The Junior League of Wilmington presents its 11th annual event, which will showcase recently renovated dream kitchens while offering scrumptious food samples and demonstrations from some of the area's top chefs and restaurants. The self-guided tour, which is the league's major biannual fundraiser, will include 18 kitchens in the greater Wilmington area, including locations in Wilmington, Greenville, Hockessin, Newark and Southern Chester County. Individual tickets are $30 in advance and $35 at the door, or four for $100.
DELAWARE HUMANE ASSOCIATION'S MUTTINI MIXER
Saturday, April 9
7-10 p.m.
World Cafe Live at The Queen, Wilmington
dehumane.org
DHA's Muttini Mixer is a dog-friendly cocktail party that supports Delaware Humane
Association, and the event is a great opportunity for guests and their dogs to mingle
with other supporters and animal lovers while enjoying heavy hors d'oeuvres, wine,
beer, silent auction items, music and more. No dog? No problem – guests with or
without furry friends are welcome.
MUSIKARMAGEDDON SOLO
Friday, April 15
live at the baby grand
outandaboutnow.com
Musikarmageddon Solo will feature 16 local singer/songwriters, who will compete in a head-to-head contest to determine the area's best talent. They'll play their best original music, judges will score and fans will vote to see who will win the coveted title of Musikarmageddon champion.
PARTY ANIMAL LOOP
Friday, April 15
7-11 p.m.
Various Wilmington clubs
outandaboutnow.com
This annual loop and spring bar crawl concludes the season's Loop Series with all proceeds going to support the cats and dogs at the Delaware Humane Association.
That means dress up like your favorite party animal and head out to support the cause. Loop clubs are 8th & Union Kitchen, Anejo, Catherine Rooney's, Chelsea Tavern, Dead Presidents, Ernest & Scott, FireStone, Gallucio's Café, Grotto Pizza, Kelly's Logan House, Lavish, Satsuma Asian Kitchen & Bar, Shenanigans, Timothy's Riverfront and The Wicked Vine.
DUPONT ENVIRONMENTAL EDUCATION CENTER EVENTS
DuPont Environmental Education Center, Wilmington
delawarenaturesociety.org
On Saturday, April 16, from 3:30-4:30 p.m., experience the transformative power of
what happens when people, place and performance are connected with live dancing
and music at the free National Water Dance Performance inspired by the Christina River,
surrounding marshland, and the city of Wilmington. The performance, centered on water
conservation and sustainability, is presented by an intergenerational group of professional
dancers, arts educators, students, community members, and youth from Wilmington.
And on Saturday, April 23, from noon-4 p.m., young nature enthusiasts are encouraged
to celebrate Earth Day by meeting various animals, taking guided nature walks, making a
craft and trying their hand at netting minnows and little critters in the pond – all for free.\
WILMINGTON FLOWER MARKET
May 5-7
Thursday & Friday 10 a.m. to 8 p.m.; Saturday 10 a.m. to 7 p.m.
Rockford Park, Wilmington
wilmingtonflowermarket.org
Benefiting children's organizations throughout Delaware since 1921, this fun annual outdoor festival features rides, games, crafts, daily live music, delicious food, a variety of vendors—and stands filled with vegetables, plants and flowers for sale. See website for more information.
DOVER DAYS FESTIVAL
May 6-May 8
Downtown Dover
doverdaysfestival.com
Join in on one of the state's top annual history and heritage events. Historical reenactments, a parade, maypole dancing, walking tours, a pet parade, arts and crafts, carnival rides, music and more will be available at this weekend-long celebration.