By Jim Miller
Indiana Jones and the Dial of Destiny
Timing, they say, is everything.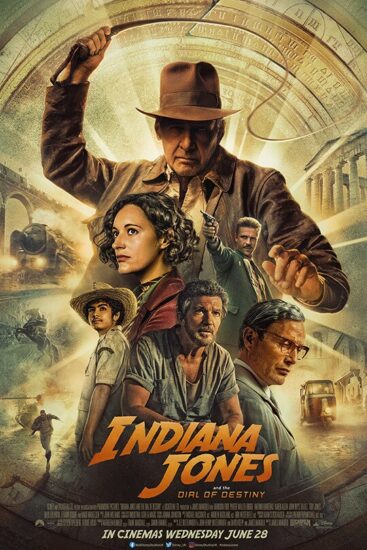 It's a notion that proves true in more ways than one in Indiana Jones and the Dial of Destiny as octogenarian actor Harrison Ford dons the lead character's famed fedora for the fifth and final go-around. The conclusion sees Indy and small team of lovable scoundrels daring to stop time-traveling Nazis from rewriting the results of World War II.  
Yes, the premise may sound familiar, like history repeating itself. But forget about the MacGuffin for a moment. Where Dial intrigues most effectively is through showing our aging archaeologist struggling to fit in during the space-race era of 1969. Where Raiders of the Lost Ark had Indy facing supernatural specters, Dial shows him confronting ghosts of his past — painful regrets revolving around family and friends. 
Thus, Dial becomes a race against time in another sense for Indy, and it's the most fully-fleshed portrayal of the character. 
In films like Cop Land (1997), 3:10 to Yuma (2007), and, more recently, Logan (2017), director James Mangold has shown he can balance explosive action sequences with emotional heft. What feels missing is Steven Spielberg's sense of pacing and his playfully teasing audiences with impending dread — particularly with the absence of the Rube Goldberg-type traps that were a hallmark of the other films. 
Another drawback is that Dial feels a bit overloaded and convoluted, nearly getting lost midway in its own labyrinth.
That's not to say the movie isn't fun. As Helena Shaw, Pheobe Waller-Bridge delivers plenty of snarky spark and clever charm to the mix. Her fresh energy and zest offer credence for a future spinoff series for sure.
Other than that, the film's biggest prize is seeing Ford in the saddle again (literally at times), albeit using his wiles, wit, and worldly knowledge more than his whip. He resonates heart in this role. With the exception of the father-son comradery between Sean Connery and Ford in Indiana Jones and the Last Crusade, no other scenes in the series tug on the heartstrings as much as the closing ones in Dial.
Sure, it might turn in some familiar directions, but Dial also spins in a risky and rewarding manner, landing in a refreshingly new place: presenting Indy's greatest challenges to be ones that life presents us all.