Above: Sharing suds on the Riverfront (l-r): John Hoffman (Dew Point Brewing), Justin Sproul (Iron Hill Brewery), Joe Bob Jacobs and Sarah DeFlaviis (Bellefonte Brewing), John Fusco and Craig Wensell (Wilmington Brew W0rks), Andrew Rutherford (Stitch House Brewery). Photo by Butch Comegys.
When Wilmington Beer Week began in 2012, the local brewing scene was minimal. So, the focus was on craft beer brewed elsewhere, not suds brewed here.
A decade later, there are now three craft brewers within city limits — Iron Hill, Stitch House, Wilmington Brew Works — and 15 breweries throughout New Castle County. Today, there is indeed a local brewing scene. And that scene — combined with the rest of the craft alcohol industry — has become an economic factor in New Castle County as well as throughout the state.
Such growth mirrors a national trend — and underscores Delaware's love of beer. In fact, according to The Brewers Association, a non-profit trade group of 5,400 brewers, in 2021 Delaware was second in the country in craft beer produced per capita — 12.3 gallons per adult 21 years or older. Who was No. 1? Vermont, at a whopping 24.2 gallons per adult.
From Feb. 28-Mar. 5, Wilmington area brewers will raise a glass to the industry's recent growth and pay tribute to the area's rich brewing history. Yes, after a two-year COVID break, Wilmington Beer Week is back. And 100% of the focus is on local brew.
"It's great to see a Wilmington Beer Week return with a focus on locally brewed beer," says Craig Wensell, CEO and Brewer for Wilmington Brew Works. "Wilmington has a great brewing tradition with some big breweries that unfortunately didn't survive much past prohibition. Now we've got three breweries in the city limits and plenty more a short drive away. When someone visits Wilmington and heads to a bar or restaurant, they can now find beer on tap that was brewed a few miles away."
"I think it was the right move to shift the focus to local beer," adds Justin Sproul, Senior Head Brewer at Iron Hill Brewery & Restaurant. "It opens up opportunities for breweries to participate, which creates more excitement and makes for better events."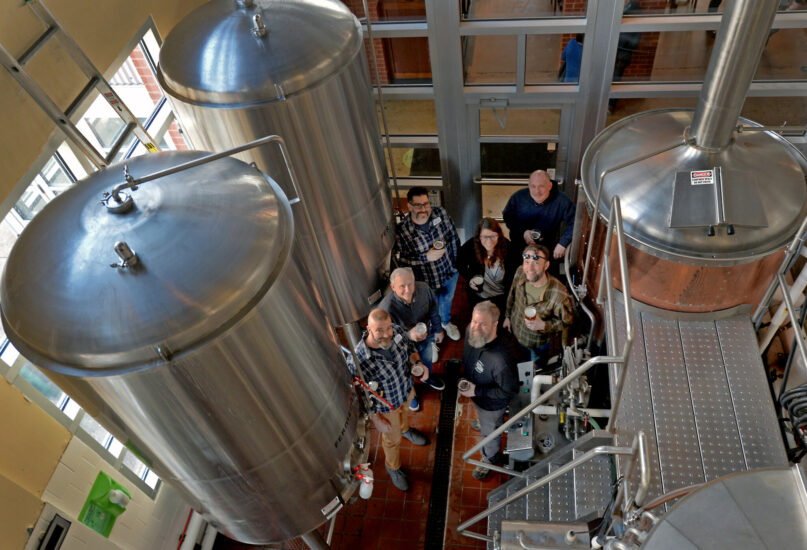 Wilmington Beer Week 2023 features seven beer breweries and the mead/cider craft producer Liquid Alchemy. The participating breweries are Bellefonte Brewing, Dew Point Brewing, Hangman Brewing, Iron Hill Brewery & Restaurant, Stitch House Brewery, Twisted Irons Craft Brewing and Wilmington Brew Works.
Participating restaurants with a significant craft beer profile include Chelsea Tavern, Dorcea, Grain (Trolley Square), Two Stones Pub (Wilmington), Trolley Tap House and Washington Street Ale House. The Chancery Market Food Hall & Bar, the popular new gathering venue at 1313 N. Market St., is also participating and will host a Beer Can Art Exhibition.
Collaboration is the word for this year's events as the participating brewers are joining forces for three nights that will feature their collective talent:  Sour Night at Wilmington Brew Works (Tue., Feb. 28), IPA Night at Iron Hill (Wed., Mar. 1), and an Atlantic 10 Watch Party with Lagers at Stitch House (Thur., Mar. 2). 
As mentioned above, The Chancery will host a Beer Can Art Exhibition from 5-7 p.m. on Friday, March 3 in conjunction with the Art Loop. A Rare Beer Event is set for Saturday, March 4 at Iron Hill, featuring a lecture on Wilmington's brewing history by local beer historian John Medkeff. Tickets will be sold for this event with proceeds benefitting "Restore The King," a fundraising campaign to restore the King Gambrinus statue (see pg. 33). Finally, the week concludes with Beer & Brunch at participating Wilmington Beer Week venues that offer food.
As a reward to those who plan to visit multiple venues, a WBW Passport will be available. Those who get their passport stamped five times will be eligible to win the Ultimate Wilmington Beer Tour ($250 in gift certificates to select Wilmington Beer Week venues). Second- and third-place prizes will also be awarded.
— To download the passport as well as get contest and event details, visit WilmingtonBeerWeek.com