By Mark Fields
Shortcomings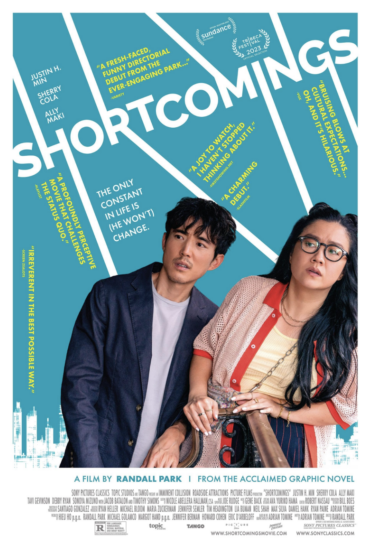 After the critical and box office success of Crazy Rich Asians, Minari, Parasite, and most recently Everything Everywhere All At Once, there has been a significant uptick in Asian-centric movie and TV projects. Shortcomings is, in fact, the second major studio release this summer — after Joy Ride — that features a mostly-Asian (and also, young, cast). I guess it is a perverse sign of progress in Hollywood that even middling movies such as Shortcomings are now getting made.
Directed by actor Randall Park (WandaVision, Fresh Off the Boat), Shortcomings tells the story of three young Asian-Americans in the Bay Area as they each struggle to find professional and personal fulfillment. Ben (Justin H. Min, Beef) is an aspiring filmmaker trapped in a dead-end job. His live-in girlfriend Miko (Ally Maki) works for an Asian film festival. Ben also spends time with his queer best friend, Alice (Sherry Cola, Joy Ride), who herself agonizes with commitment issues and parental disappointment. When Miko leaves for a New York internship, all three of their lives get disrupted and they are forced to re-evaluate their life expectations.
The performances are all solid (especially Sherry Cola), and Park keeps the story moving, but the movie suffers from an unconvincing script and essentially unsympathetic characters. We have seen numerous iterations of this slacker reckoning story, so there is little fresh about this dramedy with the exception of its Asian-American cast.