By Mark Fields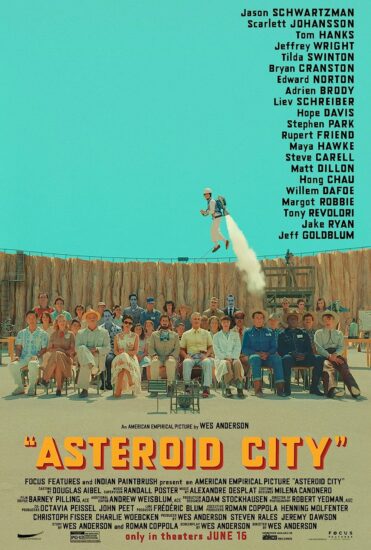 Wes Anderson's films – which, in recent years, have included The French Dispatch, Isle of Dogs, and The Grand Budapest Hotel – are undoubtedly an acquired taste. His breaking of the fourth wall (actors talking directly to the camera/audience), the clipped and stilted dialogue, the sweeping tracking shots, the flat and brightly colored setting all create an artificial yet complete cinematic environment in which Anderson can explore idiosyncratic human behavior. Anderson's films have an intentional hyper-stylization that individual filmgoers either embrace or find unnecessarily opaque, even off-putting. I enjoy them, usually. My partner does not.
His latest movie, Asteroid City, is perhaps his most Andersonesque to date. Ostensibly the story of a small desert city in the 1950s experiencing an unexpected visit from the stars, Asteroid City creates an opportunity to bring together his extensive repertory company of familiar actors – Jason Schwartzman, Edward Norton, Tilda Swinton, Willem Dafoe – to do their offbeat best. But, the film features all of the signature stylistic conventions mentioned before, and adds on top of them a framing device of a black-and-white recreation of the play that is also the movie…meta, right?! This additional layer of artifice further underlines the director's attempts to defy moviegoers' expectations.
Although archly funny and often moving, Asteroid City ultimately struggles to make a coherent point through all the stylistic showmanship. Quirky can be fine, but we still want and need a compelling reason for watching.