Above: After an environmental cleanup, a group of volunteers from Limestone Presbyterian gathers for a photo. Photo courtesy of Tom Moran.
By Catherine Kempista

Born from a simple idea rooted in community service, Limestone Presbyterian Church's The Church Has Left the Building project will celebrate its fourth anniversary on Sunday, Oct. 22, dispatching more than 150 volunteers to local nonprofits for a morning of service and connection.
In 2018, Ann Miller, a 35-year-long member of Limestone Presbyterian, met with a friend and fellow congregant for a glass of lemonade and conversation about a successful community service program at a Methodist church in Pennsylvania. The idea was simple — invite members of the church outside the walls of the sanctuary for a Sunday morning of service to others.
"I took the brochure back to our leadership, and they said, 'Oh, we've got to do this!' Within three or four months, we had pulled together our community partners and organized the morning event," says Miller, who serves on the church's Mission Committee.
Led by Limestone Presbyterian's Mission Committee, The Church Has Left the Building project was formed around the basic principle of giving church members an opportunity and means to go into the community and serve its neighbors. The project is entirely collaborative, seeking input from the congregation on whom to partner with and in which activities to engage. The project also features multiple options for service to be accessible to congregants of all ages and abilities. 
According to Miller, many of the nonprofit partners welcome volunteers as young as 5 years old, which allows families to participate together. There are also activities to accommodate those who prefer to stay at the church for the morning, including making Christmas ornaments for Cokesbury Village residents or sandwiches for distribution at the Sunday Breakfast Mission. There is something for everyone who wants to be a part of the day.
Suggestions for project partnerships are often expansions of existing relationships within the church while others come from a member's interest in a certain cause.
For example, Limestone Presbyterian has partnered with UrbanPromise Wilmington (UPW) on a variety of initiatives for more than 15 years, so when The Church Has Left the Building started, it was a natural fit.
"Over the course of the years, Limestone Presbyterian has provided tutors for our youth, meals for our summer interns, space to house our youth work teams, paddlers on the Christina River to raise support, summer supplies for our camps, financial resources to sustain our programs, and more," says Lori McClain, UPW operations director, church relations. In 2018, The Church Has Left the Building project group painted rooms in one of UPW's schools.
Other nonprofit partnerships in that first year sprang from a church member's personal passion.
"I'm an animal lover, especially animals with special needs," says Diane Freed, church elder and member of the Mission Committee. "The morning of service gave us an opportunity to get involved at Humane Animal Partners (HAP) and get in on the ground floor to see what they do behind the scenes. It has become one of the most popular locations for the project."
According to Miller, in 2018, the project partnered with 10 community nonprofits, including HAP, Ronald McDonald House, Sunday Breakfast Mission, Juvenile Diabetes Research Foundation and Urban Promise, among others. And the impact on the congregation was immediate.
"Everyone was just so excited to come back for lunch and share their stories from their morning of service," says Miller. "The stories energized everyone involved and brought a lot of unity into our church because people were forming relationships by working together."
The Church Has Left the Building saw repeated success in 2019 but paused in 2020 and 2021 due to the Covid-19 pandemic. The return of the project in 2022 was welcomed by both the church and its community partners.
"One of the reasons I was drawn to Limestone was because they were making a shift and becoming a church that embraces a missional model of service to the community," says Pastor Tim Bostick, who joined Limestone Presbyterian in Jan. 2020. "We weren't able to build on the project until last year."
When the project returned in 2022, it featured an expanded offering of nonprofit partners, including Sean's House, and locations at which the church members could choose to volunteer.
"Paula [Cooper, of Limestone Presbyterian] reached out to our team and made a visit to discuss service opportunities," says Zach Ryan, executive director of The SL24 UnLocke the Light Foundation, which runs Sean's House. "A lot of times someone has known someone close to them impacted by depression, stress, anxiety, or suicide, and it prompts them to reach out to us." 
"The church did a series of outdoor projects," says Ryan. "The biggest thing we need to communicate is a sense of welcome. The team and guests are extremely appreciative for their work to help create this welcoming environment."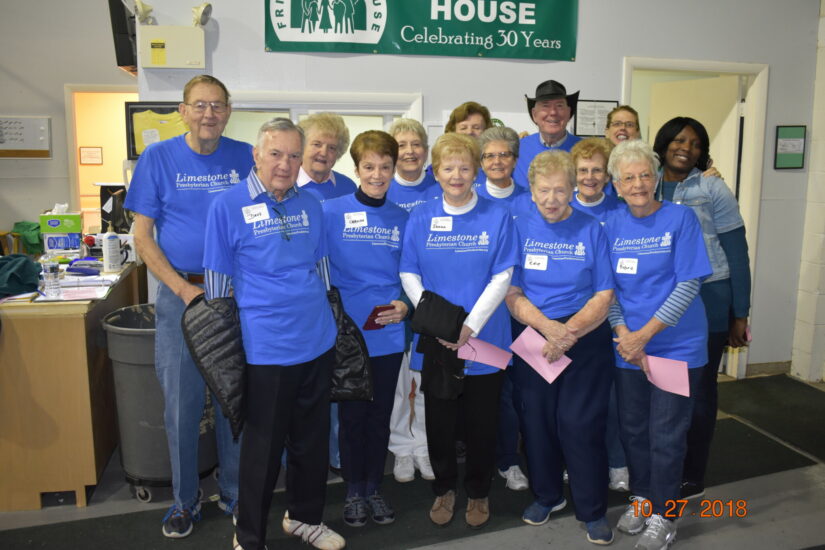 Last year, for the first time, The Church Has Left the Building also stood up an environmental clean-up team that managed to pick up "two tons of litter in four hours," according to team captain and church elder Tom Moran.
Moran, a 33-year employee of the Delaware Department of Natural Resources and Environmental Control (DNREC), knows firsthand the importance of keeping our communities and waterways litter free. When the opportunity arose to bring new ideas for the 2022 project, he stepped up to lead.
"Because of my background, I knew things about access, where the trash was, and the best way to get it out," says Moran. "It was an incredible effort with a huge impact."
With plans for the 2023 project day well underway, Limestone Presbyterian's Pastor Tim Bostick and Ann Miller are planning for the future.
"We have put together a presentation for members of the New Castle Presbytery and hope to roll this out to other churches in 2024," says Miller. "We would love for The Church Has Left the Building to become a model for others to use."
"I think the project is one example of many that helps to illustrate the shift that churches can make to a missional model," says Bostick. "For me, it's not just about Limestone. We hope other churches will see this as beneficial for their congregations and community."
— For more information on The Church Has Left the Building, visit LimestonePresbyterian.org.