By Matt Morrissette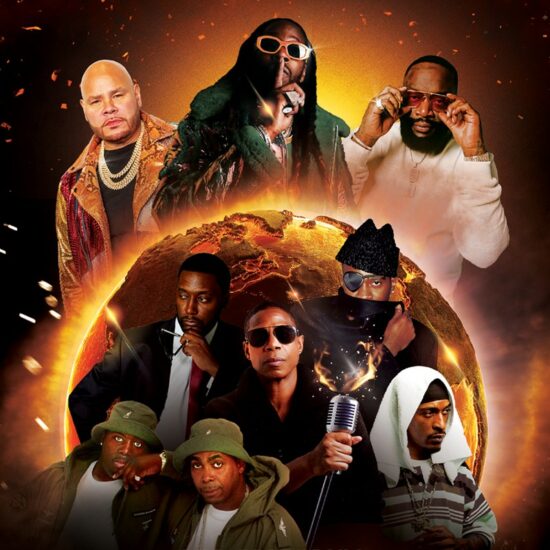 Widely acknowledged as the birthday of the cultural movement that has come to be known as hip-hop, August 11, 1973, is the day Clive Campbell (better known as DJ Kool Herc) set up his infamously massive sound system at a back-to-school party in the Bronx. Having noticed enthusiastic response to the musical breakdowns of songs, Campbell mixed the funkiest segments from two records on a loop using two turntables with the modest-yet-noble goal of keeping the energy level of the party up and the kids on the dance floor.
Over the past 50 years, that spark has grown into a cultural revolution encompassing fashion, visual art, dance, and, of course, music. Though sometimes mistakenly thought of as synonyms, rap music and hip-hop are not interchangeable terms. Though rap is hip-hop's most well-known component, rap is a musical genre (composed generally of poetry over a beat) that resides under the banner of the larger subculture of hip-hop. 
The gravity of the culture can't be overstated. Its influence can be found in sports, language, politics, industry, and technology on a global scale; it's about much more than music. Hip-hop is also big business, generating tens of billions of dollars annually worldwide. 
Among the myriad of events taking place all over the country to celebrate this 50th anniversary is a package tour with an amazing rotating lineup called "Masters of the Mic: Hip-Hop 50 Tour." The tour kicked off on June 30 in New Orleans with eight stops scheduled and more to be announced. One of these stops takes place on September 22 in — believe it or not — Wilmington, Delaware at Frawley Stadium on the Riverfront. 
The lineup for the Wilmington date is stunningly stacked, featuring appearances from 2 Chainz, Fat Joe, Rick Ross and Big Daddy Kane, Doug E. Fresh (a star of the cult classic rap film Beat Street and co-creator of the collaborative tour along with Universal Attractions Agency's co-owner, Jeff Epstein), EPMD, Rakim (of pioneering rap duo Eric B. & Rakim), and Slick Rick. The artists will be backed by a stellar live band for added excitement.
"This is truly unprecedented. To have such an elite group of hip-hop icons from the golden era coming together to celebrate 50 years of hip-hop music this way … it's truly mind-blowing," says UAA's Epstein. 
Any Wilmington live music fan will tell you that a concert of this size beyond the usual yearly festivals is a rare occurrence in town. And such a show would customarily require a jaunt to the more robust concert market that is Philadelphia. Unfortunately, due to contractual terms, bands usually can't play another show within the vicinity for a certain amount of time; thus, Wilmington frequently finds itself missing out. 
So, what did Wilmington do to beat Philadelphia to the punch on booking this big show (and the first concert at Frawley Stadium since the legendary Americana band Wilco played the venue in the summer of 2009)? According to Terry Cruz, director of technology and diversity programming at The Grand, it was all about timing and relationships.
"The Grand got out in front of Philadelphia and had this concert event scheduled before any other promoter attempted to bring the event there," says Cruz. "Fortunately, I have an established relationship with the agent so they wouldn't bump us for a Philadelphia play even when another promoter tried to bring it there."
Asia Jeter-Gelibert, marketing manager for Universal Attractions Agency, reiterates the strength of the working relationship between The Grand and the agency.
"Terry Cruz approached John Moskowitz (the booking agent for the tour) with an idea for producing a larger lineup show of the Hip-Hop 50 Tour for the Grand at Frawley Stadium, and their vision and synergy matched up," she states.
As far as a show of this size and scale succeeding in a smaller market such as Wilmington, Jeter-Gelibert has total faith.
"In today's touring and large concert market, it's quite common to forego big-city markets like Philadelphia," she says. "Wilmington, Delaware has the advantage of drawing from Pennsylvania, New Jersey, Maryland, and beyond."   
Assuming a robust turnout for the show, Cruz would like to make performances at Frawley Stadium a regular thing with hopes of bringing two major concerts to the venue next summer.
With an eye towards inclusion and local outreach, the Hip-Hop 50 Tour will have a local master of ceremonies, but the tight schedule of the national acts doesn't allow for any local performers. However, the Grand will be hosting "Soul of the City," a music and cultural festival also highlighting the 50th anniversary of hip-hop that will feature live performances by local musicians, dance demonstrations, live painting, vendors, and various community resources. It will be held between the blocks of 7th and 8th on Market Street on September 16 from noon to 4 p.m. 
The "Masters of the Mic: Hip-Hop 50 Tour" coming to Wilmington creates a unique opportunity to mark the end of summer with two reasons to celebrate: the 50th birthday of an exuberant and vital piece of the fabric of our shared culture and the return of live outdoor music to one of Wilmington's underappreciated resources, Frawley Stadium. 
— For tickets to the "Masters of the Mic: Hip-Hop 50" show, visit TheGrandWilmington.org.