Not-to-be missed music news
Double the Sound at Oddity, 1984
Wilmington bars partner for a show April 18
Wilmington venues Oddity Bar and 1984 are teaming up on Saturday, April 18, with a $9 cover charge that includes admission to both bars. They are a couple of minutes' walk from each other; Oddity is on Greenhill Avenue and 1984 is on West 4th Street.
The bars will host a total of 14 bands that day. Playing at Oddity will be King Bison, Giant Boy Detectives, Poor Yorik, Cassettes, The Cocks, Maiden Names and Thunder Hank. At 1984 will be Weekday Warriors, Molly Ringworms, Kitty Rotten, Most Ghost, Tracy Chapstick, Paddy and the Slaughterhousers and This Blows. Performances will be from 6 p.m. to 1 a.m.
Ryan Adams Performs May 12
Singer-songwriter will be joined by Strand of Oaks
The former frontman of alternative country band Whiskeytown, singer-songwriter Ryan Adams, will perform at The Grand in Wilmington on Tuesday, May 12. Adams is most recognized for a catalog of music ranging from folk to punk.
Adams will be joined by Strand of Oaks, the rock project of acclaimed artist and Indiana native Timothy Showalter, who now resides in Philadelphia. The show, which is part of Adams' spring tour of theaters and amphitheaters, starts at 8 p.m. Tickets start at $45.
For more information, visit thegrandwilmington.org.
Arden Welcomes Fatoumata Diawara
African artist brings melodic and powerful songs to Arden on April 11
Born in West Africa, raised in Mali and now based in Paris, Fatoumata Diawara incorporates her challenging and inspiring past into her musicianship. Fighting parental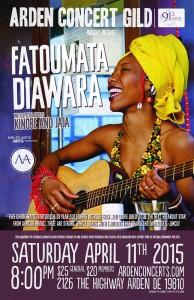 opposition to her artistic ambitions and dealing with the cultural prejudice faced by women throughout Africa, she managed to find success as an actress in film and theater, and was eventually led to music. Diawara's warm voice, with minimalistic rhythmical guitar and melodic tones, is a powerful window into her personal, often troubled experiences.
She is coming to Arden on Saturday, April 11, along with artists Kinobe and Jaja. Tickets for the 8 p.m. show are $20 for members and $25 for general admission.
WILMUSIC Fest Is May 2
Wilmington University hosts the free event
WILMUSIC Fest is a day-long free event featuring local emerging artists, food trucks, and vendors. Hosted by Wilmington University in partnership with Gable Music Ventures, the festival will be on The Green at WilmU's New Castle Campus on Saturday, May 2, from 3-7 p.m.
For the lineup, visit wilmu.edu.
Life-Changing Leap
Years abroad transformed area singer-songwriter Emily Tepe and inspired her new album, to be released April 30
Local singer-songwriter Emily Tepe, known by her stage name IVA, was classically trained at Juilliard School and The Manhattan School of Music. But she found her true musical identity when she went to Stockholm, Sweden, in 2004 on a Fulbright Scholarship to study Scandinavian classical music.
Much of her studies had involved opera, but during six years in Sweden she explored how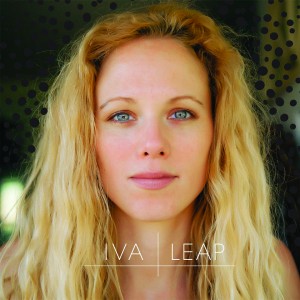 classical music could be mixed with more popular genres. This change pervades her third album, LEAP, set for release April 30.
Although recorded in the U.S., the album captures the sense of liberation Tepe felt during her time out of the country. For her, living abroad meant being whoever she wanted to be, unbound by context or a past. That sparked a turning point.
"I started really thinking, 'What do I want?' What is important?'" she says. "And music just started coming out."
Tepe returned to the U. S. in 2010 with a solidified sound. She spent the next few years putting together a band that would be an ideal fit for an album. She eventually found her current bandmates: guitarist Tim Sonnefeld, the album's producer; Nate Gonzalez on piano and guitar; Sam Nobles on bass, and Matt Scarano on drums. The album comprises songs Tepe wrote abroad and on the East Coast.
"I'm most happy with this album for coming together completely and organically," she says.
LEAP was fully funded by a Kickstarter, which was a surprise for the artist. She didn't expect such a positive response from fans, saying that the show of support is "a really good feeling."
An official album-release show for LEAP will take place on Thursday, April 30, at World Cafe Live in Philadelphia. Tepe's vocal student, Michelle Ley and Philly artist Sharon Little will open the show. Tepe will also perform newer songs that aren't on the album.
Doors open at 7 p.m., and tickets are $15. Preview and pre-order LEAP at IVAvoice.com, and visit worldcafelive.com for more show information.