Above: Cyclists who competed in the 2022 Commuter Challenge from left: David Teague, Laura Wilburn, Martin Lessner, Samuel Seo, Brian Windle, and Paul Moser at Brandywine Park in Wilmington. Photograph by Butch Comegys.
Last year, The Commuter Challenge benefiting Urban Bike Project of Wilmington made its Wilmington Grand Prix debut at the Monkey Hill Time Trial. To label it a success would be an understatement. 
"Why did we not introduce this to the Grand Prix sooner?" said Julie Miro Wenger, a co-producer of Grand Prix Weekend. "It was an absolute hit with the crowd."
"It was such a blast seeing the crowd react to racers hauling sometimes hundreds of pounds up the hill last year, and we can't wait to do it again," says Laura Wilburn, executive director of Urban Bike Project. "People really got into cheering for the riders."
Not only did the event raise $15,000 for a perennial partner of the Grand Prix, but it also gave exposure in a creative and colorful way to the city non-profit, whose mission is to bring the joy of bicycling to Wilmington residents — youth and adults alike. Among UBP's laudable achievements are a free bike program and providing at-risk city youngsters with a place to congregate and learn how to repair bikes.
The premise of the Commuter Challenge is that "gritty" supporters of UBP ride weighted-down commuter bikes around the same 3.2-mile course that the pro-am cyclists will be riding later that evening (Friday, May 19). And, yes, they ride those weighted-down bikes up the cobblestone climb of Monkey Hill, a significant challenge even for a rider on a state-of-the-art racing bike carrying no extra weight.
The more pledges a rider receives, the more weight he/she puts on their bike. Last year, Wilburn led by example, completing the course with more than 200 pounds "of stuff" added to her commuter bike. Other riders completed the course loaded up with everything from plants to law books — weight that symbolically tied into the rider's vocation. 
"We have such a good time with this event, but we also see it as a way to raise visibility for bicycle commuting," says Wilburn. "At Urban Bike Project, we work with over 1,000 adults every year who use their bikes for transportation. Some choose biking for their health and happiness, while others can't drive for various reasons and rely on their bikes to survive. This event is such a great way to demonstrate how much is possible by bicycle, but also how much fun it can be."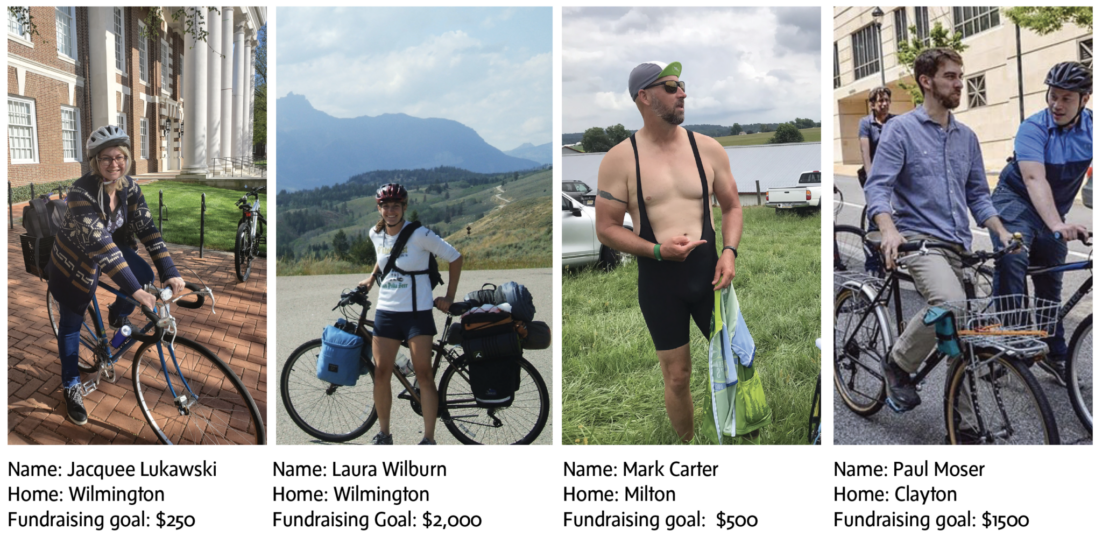 Pictured above are four of this year's Commuter Challenge riders with comments on this year's event below. To support these riders, visit UrbanBikeProject.com/commuter-challenge.
What do you love about bike commuting or biking in general? 
Paul: Noticing the more minute details of a landscape, savoring the simple joy of movement, and having an excuse to show up places and already be smelly.  
Laura: Whoa. There are so many things I love about biking. I could write a whole essay about the ways it helps me feel more connected, healthier, self-sufficient, but at the end of the day it's just plain FUN. There's nothing like the feeling of sailing down a hill with wind and sun on your face.
Jacquee: The freedom to get up and go on my own schedule; though I do ride the SEPTA train as part of my commute currently. Also, I love the community of bike commuters that I'm getting to know, including coworkers and graduate students. 
Mark:  The perspective. You notice things.
Why are you fundraising for Urban Bike Project? 
Paul:I love their mission and I cobbled together my first project bike at UBP (a way undersized Royce Union frame from a friends shed that I converted into a single speed/ fixie mountain bike with bullhorn handlebars) so there is a special place in my heart for the organization. 
Laura: It has been the joy of my career to help grow this incredible non-profit. Every week I get to witness transformative moments — a volunteer and customer from very different walks of life connecting over their shared love of biking, a kid's face lighting up with confidence when their bike works again because they fixed it themselves, a neighbor with a disability regaining independence with the help of a free bike from us.
Jacquee:  I recently started volunteering at UBP and I love how they make bicycling attainable for people from all walks of life, despite their financial means.
Mark:  UBP is just an amazing organization all around.  The mission, the fun, the people! They provide skills, offer two-wheeled "green" transpo, hold fun & safe events, and foster community.
What will you be riding for the Commuter Challenge?
Paul:  Me salty old Surly Long Haul Trucker with swoopy bars and saddle bags loaded with cinder blocks.
Laura:  My trusty old 2008 Trek 7.2FX commuter bicycle. I've never owned a car and this bike has gotten me everywhere I need to go and want to go, through 20 states and 2 countries, for the last 15 years.
Jacquee:  I'm deciding between my Bridgestone 300 and Centurion Le Mans 12, both are vintage road bikes.
Mark:  Salsa Vaya 2.  Affectionally known as Sussudio.
What is the craziest thing you've ever carried by bicycle?
Paul: A miter saw.
Laura: The time I carried a full size sheet cake on my handlebars.
Jacquee: Probably the time I had a yoga mat strapped to my back and Roots bowls takeout bags dangling on my handlebars. Not heavy, just awkward.
Mark:  Probably five pizzas, I guess.