By Bob Yearick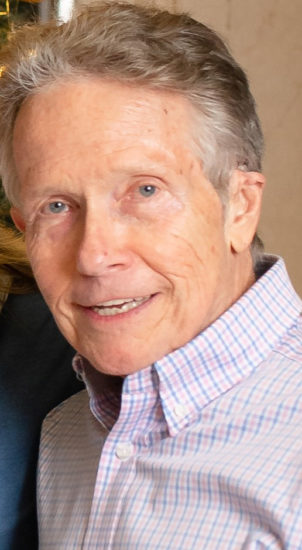 Media Watch
•Keith Pompey in The Philadelphia Inquirer: "Joel Embiid showed up to Madison Square Garden donning a nice pair of jeans, a white hoodie, blue jacket, and an expensive pair of sneakers with spikes on the toe." Two problems with this sentence: First, the use of to instead of the usual at (a recent, inexplicable, and irritating trend); second, the misuse (once again) of donning, which means to put on a garment, not simply to wear it. 
•Alicia Melendez on MSNBC: "Whomever gets the House speakership will face several challenges." As the subject of the sentence, whoever is the correct word here. Some in the media seem to sprinkle in the random whomever or whom, thinking it makes them sound sophisticated. Usually, it makes them sound ignorant.
•Brian Truitt, USA TODAY: "After being introduced in the original 2019 'Knives Out,' audiences get a new glimpse at Blanc's personal life in 'Glass Onion.'" Truitt means that Benoit Blanc (played by Daniel Craig) was introduced in the original, not audiences. 
•A reader sends this headline from The New York Times: "Donald Trump called Matt Gaetz and others who sunk Kevin McCarthy's 14th effort." The Times is one more publication that doesn't seem to know the past tense of sink: sank. 
•Jeff McLane in the Inky, writing about Eagles kick returner Britain Covey: "He not only looks the part, the Mormon has never drank a drop of alcohol." McLane, an excellent writer, should know that it's drunk.
•Lorenzo Reyes, USA TODAY: "One of the criticisms levied against Tagovailoa has been his ability to throw the ball down the field." The criticism would be his inability to throw the ball down the field.
•NBC Today co-host Hoda Kotb, interviewing Chloë Grace Moretz about her show, The Peripheral, pronounced it Perif-REAL. Hoda put a twist on the usual mispronunciation — perif-eeal.
•And finally, getting a bit graphic, in a story in USA TODAY, actor Noah Centineo described the pressure of waiting for his Netflix series, The Recruit, to debut: "It's kind of like when you have to pee. You start getting to a bathroom, and you have to pee worse, because you're getting closer to a bathroom. It's like that. My team is like: 'Why? Why was that the metaphor?'"
USA TODAY also called Centineo's description a metaphor. It's not.
The key differences between a metaphor and a simile are that a simile compares two things by using like (see above) or as, while a metaphor says that something is something else, making the comparison more direct. You can often turn a simile into the stronger metaphor by simply removing as or like. E.g., Life is like a box of chocolates. Life is a box of chocolates.
First, Do No Harm
This admonition, often applied to those in healthcare (though it's not part of the Hippocratic Oath, as some people think), should also apply to copy editors. Take, for example, this submission from reader Debbie Layton, citing a Wilmington News Journal story about contract negotiations for Minnesota Twins shortstop Carlos Correa:  "Instead, a decade-old ankle fracture wound up sending he and agent Scott Boras on an unprecedented free agent hunt." That should be him, the object of the verb sending. But here's the twist: In the original USA TODAY story, writer Gabe Lacques used the correct pronoun, suggesting that TNJ created the error during editing. 
The ol' Double Superlative
•From USA TODAY:  Tyreek Hill, Miami Dolphins wide receiver: "We've got one of the most swaggiest coaches in the league." Delete most, Tyreek.
•WDEL, reporting on the neediest cities in the U.S., said that Columbia, Md., was "the least neediest." Make it least needy. 
Department of Redundancies Dept.
Reader Howard Dobson submits two TV gaffes: Channel 6 reporter Bob Brooks: "The suspect is on the loose as I speak right now . . ." And from a Fox Weather Live meteorologist: "Currently as we speak, heavy rain is drenching much of Southern California.
Word of the Month
tatterdemalion
Pronounced tat-uhr-di-MAYL-yuhn, it's usually an adjective, meaning ragged, tattered. As a noun, it means a person in ragged clothes.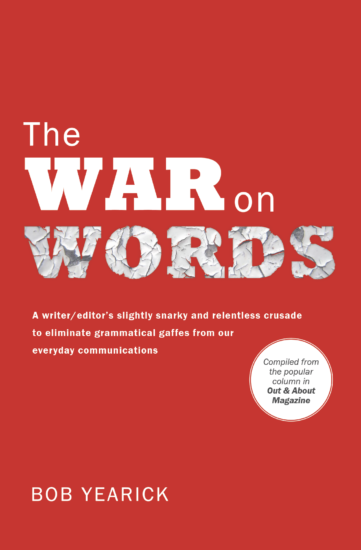 Follow me on Twitter: @thewaronwords
Need a Speaker for your Organization?
Contact me for a fun presentation on grammar: ryearick@comcast.net.
Buy The War on Words book at the Hockessin Book Shelf or by calling Out & About at (302) 655-6483.