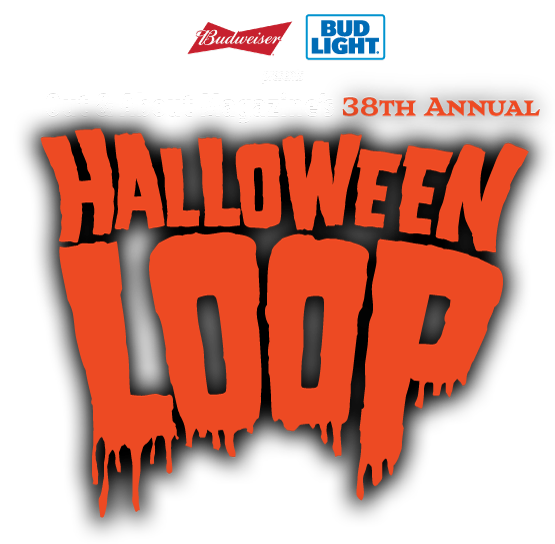 2018 Date TBA
No Bus Service – See Below for Ride-Share
Originating in 1979, the Halloween Loop is a citywide party in which club patrons pay a one-time cover charge to visit a variety of nightspots throughout Wilmington. The majority of Loops are roaming costume parties, with patrons wearing their costumes!
The Halloween Loop is the granddaddy of all Loops, and regularly draws thousands of people. The City Loop Series has become a Wilmington tradition, and is credited with helping invigorate the city's nightlife. Check for updates on upcoming loops or call 655-6483 for information.
FAQ's
Question: Where do I start the Loop?
Answer: There is no official starting point. Select the nightspot you'd like to visit first, pay the cover charge, and you will receive a wristband that gains you admission to all other Loop venues without paying another cover.
Question: What does my wristband entitle me to?
Answer: Admission to any Loop venue without paying another cover charge and a special Loop-only discount on Lyft ride-share services.
Question: Do I need to wear a costume?
Answer: No, but you will feel much more a part of the party if you do. The Loops are costumed pub crawls, especially the Halloween Loop. For the St. Patrick's Day Loop, be sure to wear green. For the Santa Crawl, a santa hat or an ugly holiday sweater gets you in free. And many venues sponsor costume contests so be creative and you could go home with a prize.
Question: What is the best way to travel between venues?
Answer: In Trolley Square you have 7 venues within easy walking distance. At the Riverfront and on Market Street, you have two venues within walking distance. Lyft is our preferred Loop ride-share partner and will have plenty of drivers on site for Loop nights. A special discount code will be printed on your Loop wristband, entitling each participant a one-time Lyft discount. JUST DOWNLOAD THE LYFT APP AND SHARE A RIDE WITH YOUR FRIENDS.
How to use Lyft:
Get the App: Download the Lyft app for iPhone or Android. Already have the Lyft app? Go straight to step 3!
Create Your Account: Set up a Lyft account. You'll need to add a credit card, in case your Lyft rides go beyond the event. Any additional tips will be charged to your credit card as well.
Submit your info: Add the promo code you on your Loop wristband to the "Payment" or "Promo" section of the Lyft app before you request your ride. You must be in "Personal" mode for the code to apply.
Parking Suggestions:
The best option is to use Lyft or a designated driver and never get behind the wheel. If you must drive, here is an overview of the parking:
– Riverfront – acres of free parking.
– Downtown – 8th & Orange surface lot is free on weekends and short walking distance to Chelsea Tavern and Ernest & Scott Taproom.
– Trolley Square – parking is limited as the area is surrounded by residential. DO NOT park in the Trolley Square Shopping Center nor plan on parking in the Acme parking lot. You can park for free in the surface lot directly across from the Delaware Center for Horticulture (1810 N. DuPont St.).
– Union Street area – street parking is your best option. Do not plan on parking in any of the establishments lots…most are very limited.
For Halloween Loop & St Patrick's Day Loop
Last Call Lots: Riverfront Commuter Lot (Justison St., across from Iron Hill Brewery & Restaurant) and Wilm. Parking Authority Surface Lot (Downtown, 8th& Orange streets). These lots will offer free parking and the ability for you to leave your vehicle overnight and pick up the next day by noon. This is a complimentary service and you will not receive a parking ticket or be towed. DO NOT DRINK & DRIVE!
Question: Where do you purchase your wristband?
Answer: At the first venue you visit. There are no advance sales of Loop wristbands. Wristband sales begin at 7 p.m. the evening of the Loop. Halloween Loop wristband sales begin at 5pm
Question: When did the Loop series start?
Answer: The first City Loop was the Friday after Thanksgiving in 1979. The Halloween Loops began the following year, in 1980.
Keys to a Successful Loop:
– Start early (for the Halloween Loop, most venues have a waiting line by 10 p.m.).
– Wear a comfortable costume. Make sure you can see where you are walking and use the rest room with ease. Also, make sure the costume doesn't cause you to become overheated (venues get very crowded on the Loop).
– Use Lyft to get around, designate a sober driver, or plan to stay in the city for the evening at a friend's place or one of the city's five hotels.
– Don't drink and drive! Use your special code and call Lyft to get you home.